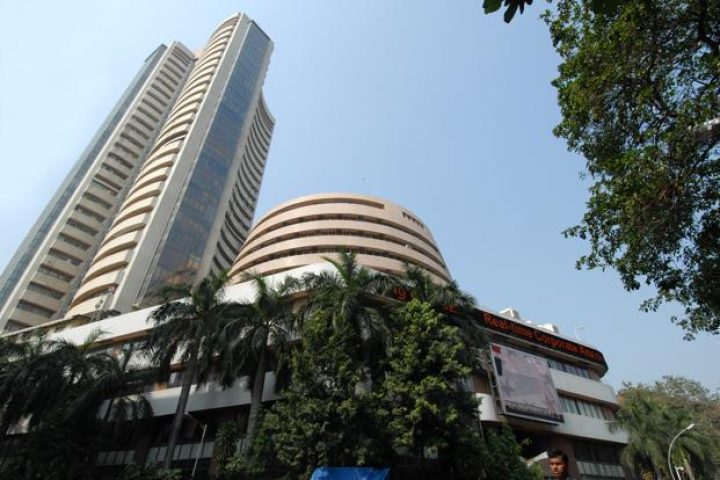 Mumbai: The BSE Sensex opened higher on Monday against the previous session's closing. The broader NSE's Nifty, too, rose in the morning hours. The Indian rupee weakened against the US dollar. The shares of Adani Ports, Bharti Airtel, Hero MotoCorp rose, whereas the shares of Axis Bank and Bajaj Auto fell.
■ 10.35am: BSE Sensex gained 45.65 points, or 0.14%, to 32,417.61, while the Nifty 50 gained 26.30 points, or 0.26%, to 10,172.85.
■ 10.30am: Tata Teleservices Maharashtra gained as much as 4.86% to Rs6.47 per share after the company's board, in its meeting on 18 October, approved raising of additional funds upto an aggregate amount of Rs20,000 crores by issue of one or more types of the following securities/instruments/modes.
■ 10.25am: UltraTech Cement Ltd added as much as 2.33% to Rs4117.85 per share after CLSA raises target price to Rs4,900 from Rs4,700, Goldman Sachs Rs4,570 from Rs 4,490 and JPMorgan Rs4,500 from Rs4,400 for the cement maker post its quarterly results.
■ 10.00am: BSE Sensex rose 27.63 points, or 0.09%, to 32,417.59, while the Nifty 50 gained 17.40 points, or 0.17%, to 10,163.95.
■ 9.57am: Shares of Bhushan Steel gained as much as 14.43% to Rs 66.60 per share after ArcelorMittal, the world's largest steel company, has joined the bidding race for stressed steel assets in the country by expressing interest to acquire Bhushan Steel and has submitted an expression of interest (EoI) for Bhushan Steel, which has been referred to National Company Law Tribunal (NCLT) under Insolvency and Bankruptcy Code.
■ 9.55am: Idea Cellular gained as much as 4.94% its highest in last three months after the Telecom Commission has offered a welcome relief to debt-laden telecom firms by giving them six more years to pay for spectrum purchases and lowered their interest burden.
■ 9.53am: Gayatri Projects gained as much as 3.32% to Rs 194.60 per share after NCLT, Hyderabad Bench at its hearing held on October 10 has passed an order for admission under the provisions of Insolvency and Bankruptcy code. Bharti Airtel gained as much as 2.63% to Rs 486.30 per share for second day in a row.
■ 9.50am: Bharti Airtel leads by rising 1.93% to Rs483. The stock rose as much as 2.6% to hit 52-week high at Rs486.30.
■ 9.30am: BSE Sensex opened higher by 163.89 points, or 0.51%, to 32,553.85, while the Nifty 50 rose 57.90 points, or 0.57%, to 10,204.45.
■ 9.15am: The rupee was trading at 65.10 a dollar, down 0.09% from its Wednesday's close of 65.04. The rupee opened at 65.08 a dollar and touched a high and a low of 65.08 and 65.12, respectively.
■ 9.13am: The 10-year bond yield was trading at 6.79% compared to its previous close of 6.76%. Bond yields and prices move in opposite directions.
■ 9.10am: Asian currencies were trading lower. Japanese yen 0.220%, Malaysian Ringgit 0.213%, China renminbi 0.178%, China offshore 0.163%, Indonesian rupiah 0.118%, Taiwan dollar 0.069%, Singapore dollar 0.059%, South Korean won 0.041%, Philippines peso 0.029% and Thai Baht 0.003%. However, Hong Kong dollar gained 0.029% . The dollar index, which measures the US currency's strength against major currencies, was trading at 93.762, up 0.07% from its previous close of 93.701.
Source:livemint.com
Categories: Stock Market
Sorry, comments are closed for this item.