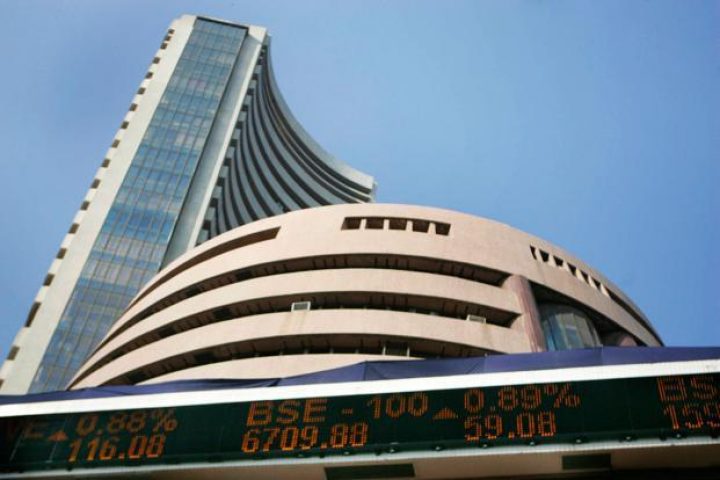 Mumbai: Indian shares rose for a third consecutive session on Thursday, with Infosys Ltd leading the gains after announcing a likely share buyback, while Asian markets rose as tensions between the US and North Korea eased. Shares of Infosys, India's No. 2 software services exporter, rose as much as 3.6% after the company said on Wednesday its board would consider a proposal to buy back shares at a meeting later this month.
Sentiment was also upbeat across global markets with Asian shares advancing as tensions between the US and North Korea came off the boil, although the Federal Reserve's concerns about weak US inflation weighed on the dollar. "Infosys buyback is a very good thing for other IT companies," said AK Prabhakar, head of research, IDBI Capital.
Infosys drove gains in the Nifty IT index, which climbed as much as 1.4% in its biggest intraday percentage gain in nearly a month. KPIT Technologies gained 3% and Tech Mahindra 1.6%. The Nifty PSU Bank index, which has lost nearly 9% since India's central bank announced its decision to cut repo rate, gained as much as 1.08%. The Nifty FMCG index was trading 0.3% higher after rising 2.5% in the previous session. Here are the latest updates
■ 2.10pm: Infosys shares rise 4.66% to trade at Rs1022.30 on BSE. BSE Sensex trades higher by 102 points, or 0.32%, to 31,873, while the Nifty 50 rises 30 points, or 0.30%, to 9,927.
■ 1.32pm: BSE Sensex trades higher by 65 points, or 0.20%, to 31,836, while the Nifty 50 rises 27 points, or 0.27%, to 9,924. Information Technology (IT) stocks rise. BSE IT index jumps by 2.08%. Nifty IT index rises by 1.57%.
■ 12.32pm: BSE Sensex trades higher by 54 points, or 0.17%, to 31,825, while the Nifty 50 rises 25 points, or 0.25%, to 9,922. Coal India shares rise over 4%, Infosys shares rise over 3%, Bharti Airtel shares rise 1.98%.
■ 10.55am: BSE Sensex trades higher by 107 points, or 0.34%, to 31,878, while the Nifty 50 rises 40 points, or 0.40%, to 9,937.
■ 10.45am: Metal stocks gains amid better-than-expected demand in China and a weakening dollar. Zinc surgedabove $3,000 a metric ton for the first time in almost a decade, while aluminum approached a three-year high.
■ 10.30am: Vedanta Ltd rose 3.1%, NMDC Ltd 2.7%, Hindustan Zinc 2.3%, National Aluminum Co Ltd 1.9%, Hindalco Industries Ltd 1.3%, Steel Authority Of India 1%,
■ 10.15am: Cigarette stocks jumps. VST Industries Ltd jumped 5.4%, Godfrey Phillips India jumped 8%, ITC Ltd rose 1.1%
■ 10.00am: Surya Roshni Ltd rose 6.4% to Rs273.80 after ET reported that the company mulling splitting its LED lighting operations into separate entity.
■ 9.50am: BEML Ltd rose 8% to Rs1,853.95. To accelerate strategic disinvestments in central public sector enterprises (CPSEs), the cabinet committee on economic affairs (CCEA) mandated a panel headed by finance minister Arun Jaitley to oversee the asset sale process, Mint reported. The panel—a so-called alternative mechanism approved by the CCEA at a meeting on Wednesday—may also help the government raise more revenue from asset sales.
■ 9.40am: Coal India Ltd rose 2.4% to Rs242.65 after a huge block deal. Around 3.5 million shares of the company changed hands in a block deal, Bloomberg reported. However, details of the buyers and sellers were not known.
■ 9.30am: BSE Sensex trades higher by 69 points, or 0.22%, to 31,840, while the Nifty 50 rises 26 points, or 0.26%, to 9,923.
■ 9.20am: Suprajit Engineering Ltd rose 5% to Rs291.24, while Phoenix Lamps Ltd rose 7% to Rs215.65.
■ 9.15am: Biocon Ltd fell 2.4% to Rs320.95. The stock has fallen for second sessions on news that it has moved to withdraw (and later resubmit) its European filings for two biosimilar products, trastuzumab and pegfilgrastim.
■ 9.10am: SREI Infrastructure Finance Ltd rose 5.3% to Rs126 ahead of its press conference after noon.
■ 9.05am: Infosys Ltd rose 3% to Rs1,002.75 after the company said its board will meet to consider buyback of shares on 19 August.
Source:livemint.com
Categories: Stock Market
Sorry, comments are closed for this item.