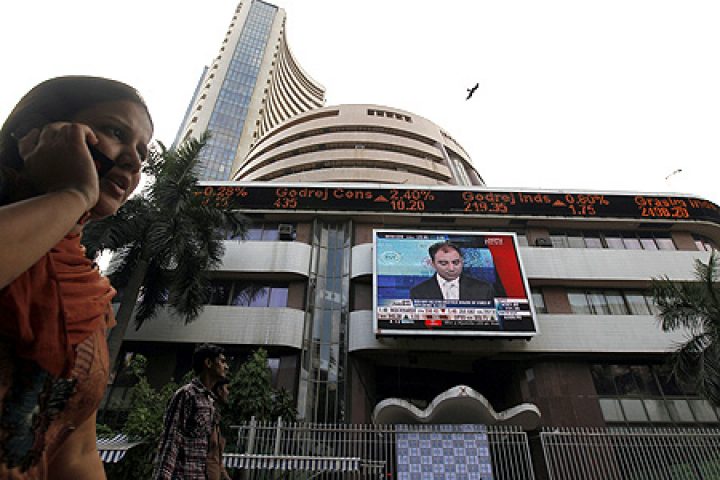 Mumbai: Indian shares traded flat on Friday, after hitting record highs earlier in the session, as Yes Bank slumped on concerns over bad loans, while investors booked profits in recent gainers. The NSE Nifty and BSE Sensex were set to gain more than 1.9% each for the week after the cabinet's decision to inject $32.4 billion into state-run lenders over the next two years boosted sentiment.
Analysts said markets may take a breather as investors digest corporate results. "Markets are looking at consolidating before moving," said Arun Kejriwal, founder, Kejriwal Research & Investment Services, an advisory firm. Here are the latest updates
■ 3.33pm: BSE Sensex closed higher by 10.09 points, or 0.03%, to 33,157.22, while the Nifty 50 fell 20.75 points, or 0.20%, to close at 10,323.05.
■ 2.38pm: BSE Sensex rose 122.23 points, or 0.37%, to 33,269.36, while the Nifty 50 gained 10.30 points, or 0.10%, to 10,354.10.
■ 2.35pm: Indian Oil Corp. Ltd's September-quarter profit rose 18.4% to Rs3,696 crore. The company's quarterly revenue from operations stood at Rs1.11 trillion compared to Rs1 trillion last year. Shares were down 4.68% to Rs414.90.
■ 1.50pm: Maruti Suzuki India reported a 3.4% increase in its net profit for the September quarter at Rs2,484 crore from Rs2,401 crore in the same period last year. The company's shares over 2% to Rs8,242.40 after the results.
■ 1.38pm: BSE Sensex rose 79.88 points, or 0.24%, to 33,227.01, while the Nifty 50 edges up 1.10 points, or 0.01%, to 10,344.90.
■ 1.35pm: India's PVR Ltd's September quarter consolidated net profit fell about 14% to Rs25.17 crore from Rs29.13 crore last year. The company's shares fell 1.06% to Rs1,402.
■ 1.30pm: The European Stoxx 600 rose 0.5%, UK's FTSE rose 0.38%, Germany's DAX surged 0.83% and France's CAC 40 jumped 0.77%.
■ 12.57pm: BSE Sensex jumps 102.99 points, or 0.31%, to 33,250.12, while the Nifty 50 edges up 8.20 points, or 0.08%, to 10,352.00.
■ 12.27pm: BSE Sensex rose 75.04 points, or 0.23%, to 33,222.17, while the Nifty 50 was unchanged at 10,343.40.
■ 12.25pm: Jenburkt Pharmaceuticals Ltd said its shareholders have approved the company's proposal to buyback its equity shares. The company's shares rose 1.03% to Rs465.
■ 12.15pm: Reliance Nippon Life Asset Management Ltd's initial public offering (IPO) was subscribed 10.01 times on the last day of the share sale on Friday, data from stock exchanges showed. As of 12pm, the IPO received bids for 428,916,489 shares against the total issue size of 42,840,000 shares, according to NSE data.
■ 11.28am: BSE Sensex rose 35.82 points, or 0.11%, to 33,182.95, while the Nifty 50 edged down 11.60 points, or 0.11%, to 10,332.20.
■ 11.25am: ICICI Bank (down 1.57%), IOC (down 3.29%), ITC (up 1.49%), Maruti Suzuki (up 1.29%) and PVR (down 2.93%) are among the companies that will be announcing their September quarter earnings on Friday.
■ 11.20am: TVS Motor Co. Ltd announced an exclusive partnership with Motoplex S.A.S of Grupo Bonanza, an automobile business house in the Dominican Republic, to expand and strengthen its presence in the Caribbean region. The company's shares fell 0.24% to Rs718.90.
■ 10.37am: BSE Sensex rose 70.94 points, or 0.21%, to 33,218.07, while the Nifty 50 edged up 5.00 points, or 0.05%, to 10,348.80.
■ 10.30am: HDFC Standard Life Insurance Co. Ltd on Thursday fixed the price band for its IPO at Rs275-290 per share. HDFC proposes to issue 299,827,818 shares in the HDFC Standard Life IPO, which opens on 7 November and will close on 9 November.
■ 10.08am: BSE Sensex rose 61.19 points, or 0.18%, to 33,208.32, while the Nifty 50 edged up 5.70 points, or 0.06%, to 10,349.50.
■ 10.05am: Banking stocks fell. Yes Bank declined 7%, Corporation Bank 6%, IDBI Bank 6%, Punjab National Bank 5%, Bank Of India 4.3%, Union Bank of India 4.1%, Central Bank of India 3.6%, Syndicate Bank 3.4%, Uco Bank 3.2%, Allahabad Bank 3.1%, Indian Bank 2.6%, Andhra Bank 2.5%, Oriental Bank of Commerce 2.5%, Indian Overseas Bank 2.4%, ICICI Bank 2.3%, Dena Bank 2.1%.
■ 10.00am: Cipla Ltd said that its subsidiary, InvaGen Pharmaceuticals Inc., has received final approval for its abbreviated new drug application for Sevelamer Carbonate tablets from the US FDA to market a generic version of Renvela tablets. Cipla shares rose 1.29% to Rs620.30.
■ 9.25am: BSE Sensex opened higher by 53.89 points, or 0.16%, to 33,201.02, while the Nifty 50 rose 3.70 points, or 0.04%, to 10,347.50.
■ 9.23am: Yes Bank Ltd fell 9% to Rs300 after the bank reported a sharp rise in bad loans on Thursday following the Reserve Bank of India's supervisory assessment. The central bank's assessment of Yes Bank's gross bad loans was Rs6,355.20 crore more than what the lender had reported at the end of March.
■ 9.20am: Biocon Ltd fell 4.5% to Rs349 after the company reported a lower-than-expected profit of Rs68.8 crore for the quarter ended September, a decline of 53% from Rs146.7 crore a year ago, as sales growth slowed and expenses increased.
■ 9.17am: United Spirits Ltd rose 6.8% to Rs2,751.30 after the company said standalone net profit rose 86% in the quarter ended September, helped by a strong performance by its premium brands. Profit rose to Rs153.1 crore in the three months from Rs82.5 crore a year ago. Revenue rose to Rs6,245.1 crore from Rs6,051.2 crore, the company owned by Diageo Plc. said in a filing with the BSE.
■ 9.15am: The rupee opened at 65.02 a dollar. At 9.15am, the home currency was trading at 65.06 against the dollar, down 0.35% from its Thursday's close of 64.82.
■ 9.13am: The 10-year bond yield was at 6.811% compared to its previous close of 6.811%. Bond yields and prices move in opposite directions.
■ 9.10am: Asian currencies were trading lower as dollar climbed to three month high after the US house passed a budget resolution on tax reforms and as speculation mounted a hawkish candidate may lead the Federal Reserve. European Central Bank announced that it will be buying bonds for a longer time, even as it plans to halve monthly purchases, Bloomberg reported.
South Korean won was down 0.33%, Indonesian rupiah 0.26%, Malaysian ringgit 0.15%, Thai baht 0.15%, Japanese yen 0.14%, Taiwan dollar 0.12%, Singapore dollar 0.06%. The dollar index, which measures the US currency's strength against major currencies, was trading at 94.795, up 0.20% from its previous close of 94.612.
Source:livemint.com
Categories: Stock Market
Sorry, comments are closed for this item.