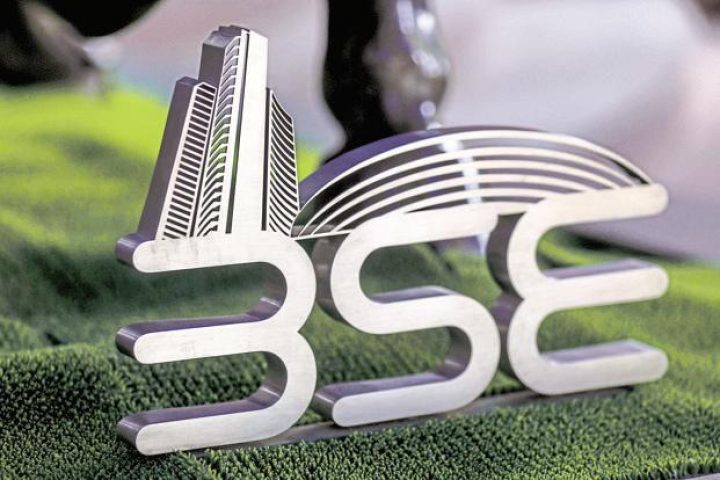 Mumbai: The BSE Sensex rose nearly 1% on Monday, heading for a third straight session of gains as consumer goods makers such as ITC Ltd surged on hopes the newly implemented goods and services tax (GST) would reduce retail prices and boost sales. India on Saturday rolled out its biggest tax reform, replacing more than a dozen federal and state levies with the GST. The unveiling of GST led some of India's biggest automakers and retailers to announce price cuts, although many companies shied away from doing so due to the complexity of the new system.
"FMCG companies like ITC are going to benefit in the long run from the GST rollout," said Anupam Singhi, chief operating officer at independent research firm William O'Neil India. NSE's Nifty FMCG index climbed as much as 5.6% to an all-time high with Hindustan Unilever Ltd (HUL) gaining above 1%. Cigarette maker ITC was among the top gainers, rising as much as 9.62% to a record high of Rs354.80. It drove the Nifty index higher, contributing nearly 45 net points to the index.
Carmaker Maruti Suzuki India gained as much as 1.8% after posting a 7.6% jump in June vehicle sales on Saturday, while commercial vehicles maker Ashok Leyland climbed to its highest in a year after reporting an 11% rise in June total sales. Shares of fertiliser makers surged after GST rate for fertilisers was slashed to 5% on Friday. Here are the latest updates from the markets:
■ 3.30pm: ITC, HeroMotoCorp and Coal India are the top gainers, while SunPharma, Tata Motors and NTPC are the biggest losers. BSE Sensex closed higher by 300 points, or 0.97%, to 31,222, while the Nifty 50 rose 94 points, or 0.99%, to 9,615.
■ 3.00pm: BSE FMCG index rises by 3.51%, BSE auto index rises by 1.23%. while Sensex rises 0.94% to trade at 31,212 points, whereas NSE Nifty rises 0.95% to trade at 9,610.95 points.
■ 2.10pm: BSE Auto index rises. Eicher Motors shares rise 2.3%, Ashok Leyland shares rise 6.34%, Maruti rises 1.76%, Hero MotoCorp shares rise 1.60%, and M&M shares rise 1.31%.
■ 1.35pm: BSE Sensex trades higher by 246 points, or 0.80%, to 31,168, while the Nifty 50 rises 84 points, or 0.88%, to 9,605. ITC, Maruti, Mahindra & Mahindra(M&M) and Infosys post maximum gains with the profits to the tune of 5.82%, 1.61%, 1.36%, and 1.28%, respectively.
■ 1.00pm: ITC, Maruti, Coal India and Infosys are top gainers with the profits to the tune of 5.93%, 1.68%, 1.49%, and 1.43%, respectively.
■ 12.12pm: Nifty FMCG index rises 3.85%. ITC Ltd rises over 6%, Jubilant Foodworks rises over 4%. BSE Sensex trades higher by 308 points, or 1%, to 31,230, while the Nifty 50 rises 93 points, or 0.98%, to 9,614.
■ 11.08am: BSE Sensex trades higher by 299 points, or 0.97%, to 31,220, while the Nifty 50 rises 82 points, or 0.86%, to 9,603.
■ 10.30am: BSE Sensex trades higher by 205 points, or 0.66%, to 31,126, while the Nifty 50 rises 58 points, or 0.61%, to 9,579.
■ 10.20am: Adani Enterprises Ltd rose 3.6% to Rs137.20 after CNBC TV reported that the company may demerge company into four verticals.
■ 10.10am: NBCC India Ltd rose 2% to Rs206.50 after the company said it signed Rs2,500 contract for SDMC headquarter construction.
■ 10.00am: Maruti Suzuki India Ltd rose 1.3% to Rs7,313.45. The company said its passenger vehicles sales in June in the domestic market rose marginally 1% to 93,057 units over a year ago period. Even as the Utility vehicles sales kept up the sales momentum advancing 43%, entry level models such as Alto and Wagon R dropped 8%.
■ 9.50am: Mahindra & Mahindra (M&M) Ltd rose 1.3% to Rs 1365.15. The company on Saturday reported 8% decline in total sales at 35,716 units in June. The company had sold 39,009 units in the same month last year. In the domestic market, sales were down 3% at 33,861 units last month compared to 34,989 units in June 2016. Exports were down 54% at 1,855 units in June against 4,020 units in the same month last year.
■ 9.40am: Bajaj Auto Ltd fell 1.1% to Rs2,760 after the company said its sales for the June fell 23% from a year ago to 2.45 lakh against 3.17 lakh.
■ 9.35am: Ashok Leyland Ltd rose 4% to Rs97.65 after the company said its sales for the June month rose 11% to 12,330 units against 11,108 units a year ago.
■ 9.30am: Dilip Buildcon Ltd shares rose 4% to Rs466 after brokerage firm Credit Suisse rated the stock with new 'outperform' citing strong revenue and earnings growth expectation. It also increased target price of the stock to Rs650 a share.
■ 9.25am: Shares in fertilizer companies rise after the government fixed the Goods and Services Tax (GST) rate on fertilizer at 5% instead of 12% decided earlier. Nagarjuna Fertilizers rose as much as 8.3%, Gujarat State Fertilizers 4.8%, National Fertilizers 8.3%, Zuari Agro Chemicals 3%, Mangalore Chemicals 3.7% and Chambal Fertilisers 6.3%
■ 9.20am: BSE Sensex trades higher by 146 points, or 0.47%, to 31,068, while the Nifty 50 rises 45 points, or 0.47%, to 9,566.
■ 9.15am:The rupee opened at 64.67 a dollar. At 9.15am, the rupee was trading at 64.66 a dollar, down 0.12% from its Friday's close of 64.58.
■ 9.12am: The 10-year bond yield was at 6.51%, compared to its previous close of 6.511%. Bond yields and prices move in opposite directions.
■ 9.10am: ITC Ltd jumped 8% to Rs345 as investors continued to buy the stock as uncertainty regarding the final taxes in transition to goods and services tax (GST) is over. According to the notification issued by the central excise department, basic excise duty and additional excise duty are repealed and only the national calamity is continuing under the GST regime for cigarettes.
■ 9.05am: IT stocks fell. Wipro Ltd fell 1.8%, TCS decline 0.6%.
■ 9.00am: Asian currencies were trading lower. South Korean won was down 0.18%, Malaysian ringgit 0.14%, Singapore dollar 0.13%, Thai baht 0.1%, Philippines peso 0.1% and China renminbi 0.07%. However, Indonesian rupiah was up 0.09%.
Source:livemint.com
Categories: Stock Market
Sorry, comments are closed for this item.