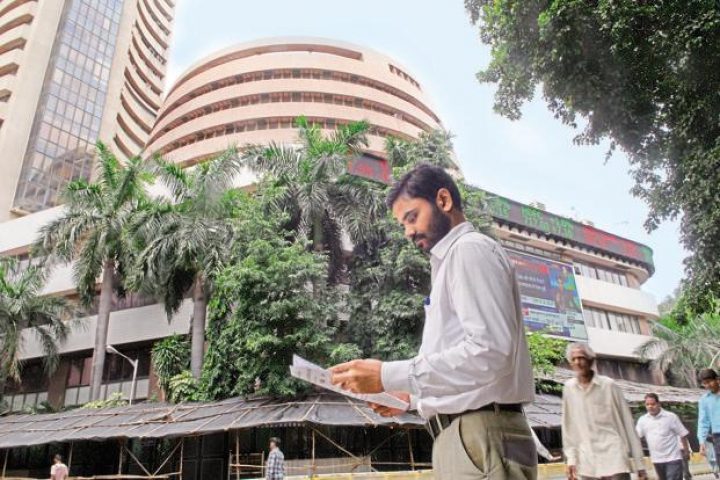 India's sovereign credit rating upgrade boosted investors' confidence as both Sensex and Nifty on Friday ended with more than 0.5% gains, powered by financial and metal stocks.
The rating action by Moody's Investor Services became apparent right in the opening session that saw the BSE index shoot up 414 points at one point. But the momentum failed to carry on as investors rushed in to shave profit as the index closed the day at 33,342.80, up 235.98 points, or 0.71%. The gauge had rallied 346 points in the previous session. The 50-share Nifty raced past the key 10,300-mark during the day, but settled at 10,283.60, a gain of 68.85 points, or 0.67%.
For the week, the Sensex eked out gains of 28.24 points, or 0.08%, but the Nifty dropped 38.15 points, or 0.36%.
Investor risk appetite soared after the US-based Moody's upgraded India's sovereign credit rating by a notch to Baa2 with a stable outlook citing improved growth prospects driven by economic and institutional reforms. The rating upgrade came after a gap of 13 years—Moody's had last upgraded India's rating to 'Baa3' in 2004.
"This is a positive development for India as an improved rating will help the country attract more foreign investments while its equity markets will now fall within the investment mandate of more global fund managers," said Karthikraj Lakshmanan, senior fund manager, equities, BNP Paribas Mutual Fund.
Banking counters led from the front. ICICI Bank, HDFC Bank and SBI climbed by up to 1.86%. Barring IT and technology, which lost over 1%, all other sectoral indices witnessed gains. Realty jumped by the biggest margin.
Cipla was the leader of the Sensex chart, gaining 2.64% after the company said it has received final approval from the US health regulator for its suspension product. HDFC Ltd came in next, up 2.23%. Maruti Suzuki gained 2.15% after Japanese auto majors Toyota Motor Corp. and Suzuki Motor Corp. said they will co-operate on introducing electric vehicles in India by 2020.
IT stocks such as Infosys, TCS and Wipro, however, struggled. They fell up to 1.79% as the stronger rupee means lesser revenues from the US and Europe.
Domestic institutional investors pocketed shares worth a net Rs847.45 crore while foreign portfolio investors sold equities worth a net Rs447.42 crore, as per provisional data. Broader markets played along, with mid-cap and small cap indices adding up to 1.03%.
source: livemint.com
Categories: Indian Stock exchange, Indian Stock Market, Indian Stock Pick, sharemarket top news, Stock Market
Sorry, comments are closed for this item.