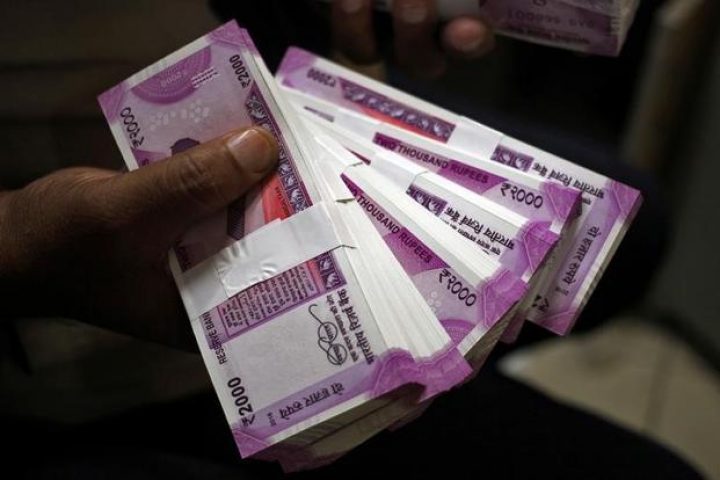 Mumbai: Indian rupee on Wednesday weakened against the US dollar, while bond yield jumped to near six-month high as analysts expect that the fiscal deficit may widen with the government announcing pumping of nearly Rs2.11 trillion in state-owned banks.
The rupee opened at 65.12 a dollar. At 9.15am, the home currency was trading at 65.13 against the dollar, down 0.11% from its Tuesday's close of 65.07.
Bond yields rose given the fear that recapitalisation bonds will add to the supply of securities in the market.
The 10-year bond yield was at 6.817%, a level last seen on 12 May, compared to its previous close of 6.775%. Bond yields and prices move in opposite directions.
"Markets are likely to focus on the potential impact on macroeconomic stability as public-debt/GDP ratio rises, offsetting the likely boost from domestic equity performance", Bloomberg reported, quoting a StanChart report.
The finance ministry on Tuesday announced a Rs2.11 trillion bank recapitalisation plan for state-owned lenders weighed down by bad loans, seeking to stimulate the flow of credit to spur private investment.
Out of the total commitment, Rs1.35 trillion will come from the sale of so-called recapitalisation bonds. The remaining Rs76,000 crore will be through budgetary allocation and fundraising from the markets.
The BSE benchmark index rose 1%, or 304.25 points, to 32,911.59. So far this year, the Sensex has gained over 23%.
So far this year, the rupee has gained 4.5%, while foreign institutional investors have bought $4.70 billion and $22.01 billion in equity and debt, respectively.
Asian currencies were trading lower. Indonesian rupiah was down 0.28%, Philippines peso 0.17%, China renminbi 0.11%, South Korean won 0.07%, Malaysian ringgit 0.05% and Taiwan dollar fell 0.04%.
The dollar index, which measures the US currency's strength against major currencies, was trading at 93.963, up 0.20% from its previous close of 93.772.
Source:livemint.com
Categories: Stock Market
Sorry, comments are closed for this item.