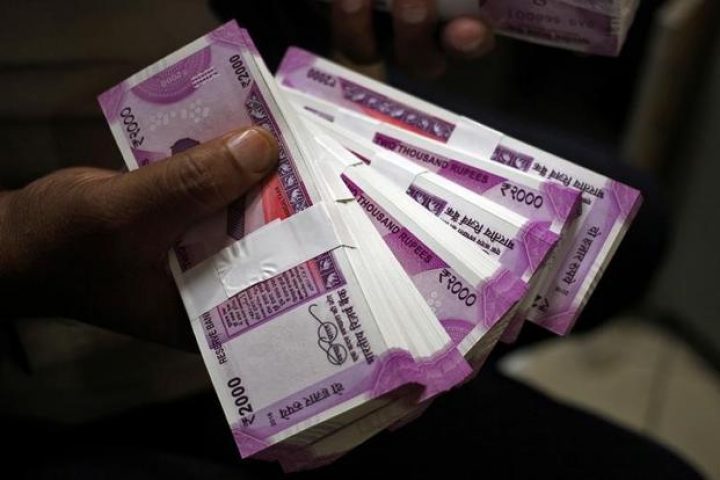 Mumbai: Indian rupee strengthened against the US dollar ahead of the Reserve Bank of India's (RBI) bi-monthly policy decision due after 2.30pm on Wednesday.
The rupee opened at 65.34 a dollar. At 9.15am, the home currency was trading at 65.35 against the dollar, up 0.24% from its Tuesday's close of 65.50.
According to Mint's poll of 15 economists, the monetary policy committee is likely to keep the key repo rate unchanged at 6% after economic growth slowed to the weakest pace in at least three years, as risks of inflation exceeding the central bank's target remain.
The BSE benchmark index rose 0.08%, or 24.79 points, to 31,522.17. So far this year, the Sensex has gained over 17.5%.
The government on Tuesday cut excise duty on petrol and diesel by Rs2 per litre, which may cause revenue loss of Rs26,000 crore for the full year and Rs13,000 crore in the remaining part of the current financial year.
Analyst expects that, with this revenue loss, fiscal deficit likely to widened for this financial year. The government overshot its revenue deficit target and exhausted 96.1% of its full-year fiscal deficit target in the first five months.
The 10-year bond yield was at 6.636%, compared to its previous close of 6.648%. Bond yields and prices move in opposite directions.
So far this year, the rupee has gained 4%, while foreign institutional investors have bought $5.51 billion and $20.05 billion in equity and debt, respectively.
Asian currencies gained after the dollar weakened before US payroll data. Traders also awaited President Donald Trump's decision on the next US Federal Reserve chair.
Indonesian rupiah was up 0.47%, South Korean won 0.43%, Malaysian ringgit 0.32%, Philippines peso 0.29%, China offshore 0.25%, Japanese yen 0.18%, Singapore dollar 0.15%, China renminbi 0.12% and Taiwan dollar rose 0.1%.
The dollar index, which measures the US currency's strength against major currencies, was trading at 93.403, down 0.18% from its previous close of 93.569.
Source:livemint.com
Categories: Stock Market
Sorry, comments are closed for this item.