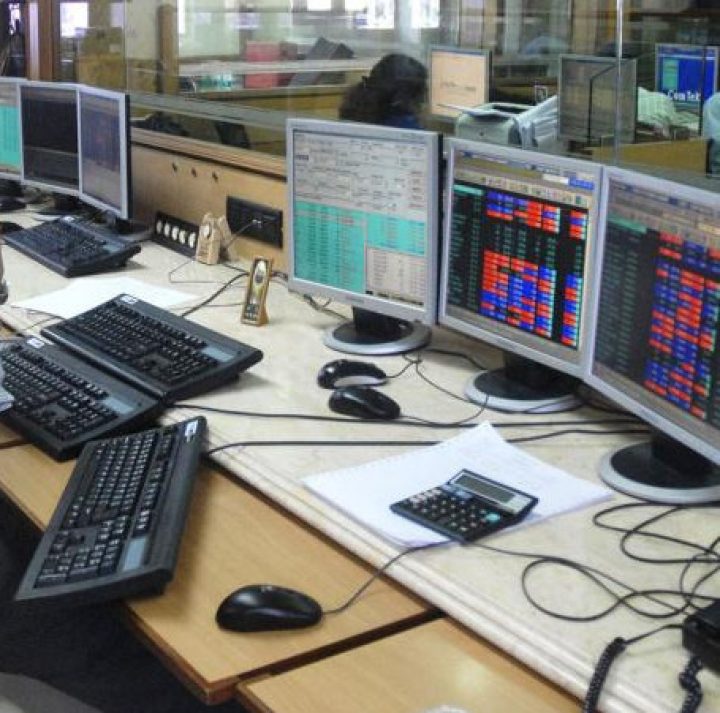 9:50 am Pre-Opening: Future Supply Chain Solutions, the logistics arm of the Future Group, settled at its issue price of Rs 664 per share in pre-opening trade.
9:47 am Market Check: It is almost a 'U' turn for equity benchmarks as after falling more than 800 points in opening, the Sensex is currently trading with around 100 points losses and the Nifty reclaimed its 10,300 level.
In fact, Adani Group stocks also turned positive. Adani Ports, which was down nearly 5 percent in opening, gained over a percent now.
The 30-share BSE Sensex was down 119.77 points at 33,343.20 and the 50-share NSE Nifty fell 34.40 points to 10,298.90.
The gap between advances and declines narrowed sharply as about 1,103 shares declined against 824 advancing shares on the BSE, versus 1:6 in opening.
Mumbai: The BSE Sensex and the NSE Nifty indices opened lower on Monday as final voting trends showed a close fight between the Bharatiya Janata Party (BJP) and the Congress in both Gujarat and Himachal Pradesh. The rupee also weakened against the US dollar, while bond yield hit a fresh 16-month high. Here are the latest updates from the markets:
9.44 am IST
Market update
BSE Sensex trades lower by 141.29 points, or 0.42%, to 33,321.68, while the Nifty 50 fell 37.05 points, or 0.36%, to 10,296.20
9:45 am Elections Results: Latest polling results indicated that BJP is expected to be winner in both states (Himachal Pradesh and Gujarat), though it is not a landslide win.
BJP is leading in Gujarat and Himachal Pradesh with 100 seats and 39 seats, followed by Congress with 78 seats and 22 seats, respectively.
9:42 am Buzzing: JMC Projects gained 7.4 percent on winning new orders worth Rs 790 crore.
9:38 am Leaders: Index heavyweight HDFC Bank turned positive, rising 0.2 percent and also helped benchmark indices recover.
Vedanta, Cipla, GAIL, Asian Paints and Hindalco gained 1-2 percent.
9:30 am Market Check: Equity benchmarks trimmed losses in morning trade as latest voting counts indicated that BJP is still leading in Gujarat and Himachal Pradesh but with small margin.
The 30-share BSE Sensex was down 408.61 points or 1.22 percent to 33,054.36 and the 50-share NSE Nifty fell 128.50 points or 1.24 percent to 10,204.80.
About six shares declined for every share falling in the BSE.
9:27 am All sectoral indices traded in red. Nifty Bank, Auto, Metal, Realty, IT and FMCG indices were down 1-3 percent.
source: moneycontrol.com
Categories: BSE and NSE, BSE Sensex, Higlighted News, Indian Stock exchange, Indian Stock Market, Indian Stock Pick, Share Derivatives, Stock Glossary, Stock Market
Comments
Sorry, comments are closed for this item.