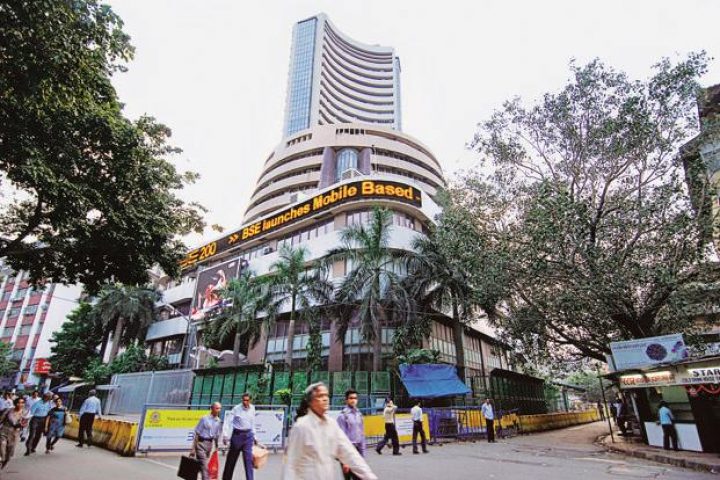 Mumbai: Stock markets after a long weekend started the day on Tuesday with a bang as the Sensex surged 332 points and the Nifty was back on top of 9,800 on optimistic buying ahead of the Reserve Bank of India policy review. Auto, metal, consumer durables and realty stocks hit a sweet spot.
The Reserve Bank of India's (RBI) 2-day monetary policy review kicks off on Tuesday and the decision is due Wednesday. This has led to unabated buying by domestic financial institutions, which added to the positive mood. Rate-sensitive auto stocks made buyers sit up and take note amid encouraging September sales data.
Here are the latest updates from the markets:
■ 10.35am: BSE Sensex was trading higher by 207 points, or 0.66%, to 31,491, while the Nifty 50 gained 58 points, or 0.59%, to 9,846.30.
■ 10.33am: Shares of SBI Life Insurance Co. Ltd debuted 5% higher on the bourses on Tuesday, after the insurer's Rs. 8,400 crore initial public offer (IPO) was subscribed 3.58 times last week. SBI Life shares opened 4.75% higher on the BSE at Rs 733.30 a piece , compared to the issue price of Rs. 700 , which was the upper end of the price band between Rs. 685-Rs. 700 per share.
■ 10.30am: Jaiprakash Associates Ltd rose 4% to Rs 18.70 after the company said its bondholders approved exchanging outstanding existing bonds, that is, 5.75% convertible notes due 2021 and 4.76% amortising bonds due 2020, according to a statement on exchanges.
■ 10.00am: BSE Sensex rose 224 points, or 0.72%, to 31,507.62, while the Nifty 50 gained 63 points, or 0.64%, to 9,851.55.
■ 9.55am: PNC Infratech Ltd gained 10% to Rs 149.05 after the company said it declared lowest bidder for Rs 2160 crore road order in Uttar Pradesh.
■ 9.50am: GMR Infrastructure Ltd added 2.5% to Rs 16.75 after the company said it will raise up to Rs 2500 crore via securities issue.
■ 9.45am: Dr Reddy's Laboratories Ltd rose 2.8% to Rs 2394.25 after the company said it launched the Sevelamer Carbonate Tablets in the US markets.
■ 9.22am: BSE Sensex opened higher by 233.84 points, or 0.75%, to 31,517.56, while the Nifty 50 rose 72.80 points, or 0.74%, to 9,861.40.
■ 9.20am: Tata Motors Ltd rose 5.2%, while Tata Motors DVR jumped 5% after Central government entity Energy Efficiency Services Ltd (EESL) awarded a contract to Tata Motors to procure 10,000 electric vehicles for government departments. The company was selected through an international competitive bidding. Others in the race included Mahindra & Mahindra and Nissan Motors.
■ 9.17am: Shares of Reliance Communications Ltd (RCom) on Tuesday fell as much as 9% after the company called off the merger of its wireless services operations with Aircel Ltd due to regulatory delays and opposition from some creditors.
■ 9.15am: The rupee opened at 65.63 a dollar and touched a low of 65.67. At 9.15am, the home currency was trading at 65.57 against the dollar, down 0.5% from its Friday's close of 65.28.
■ 9.13am: The 10-year bond yield was at 6.675%, compared to its previous close of 6.663%. Bond yields and prices move in opposite directions.
■ 9.10am: Asian currencies were trading lower as dollar gained after American factory data released Monday beat estimates and the prospect for tax cuts boosted confidence in the U.S. economy. Japanese yen was down 0.27%, Thai Baht was down 0.26%, Singapore dollar 0.26%, Indonesian rupiah 0.25%, Philippines peso 0.2%, South Korean won 0.17%, Malaysian ringgit 0.13%, Taiwan dollar 0.12%, China Offshore 0.06%. However, China renminbi was up 0.12%.
The dollar index, which measures the US currency's strength against major currencies, was trading at 93.809, up 0.27% from its previous close of 93.559.
Source:livemint.com
Categories: Stock Market
Sorry, comments are closed for this item.