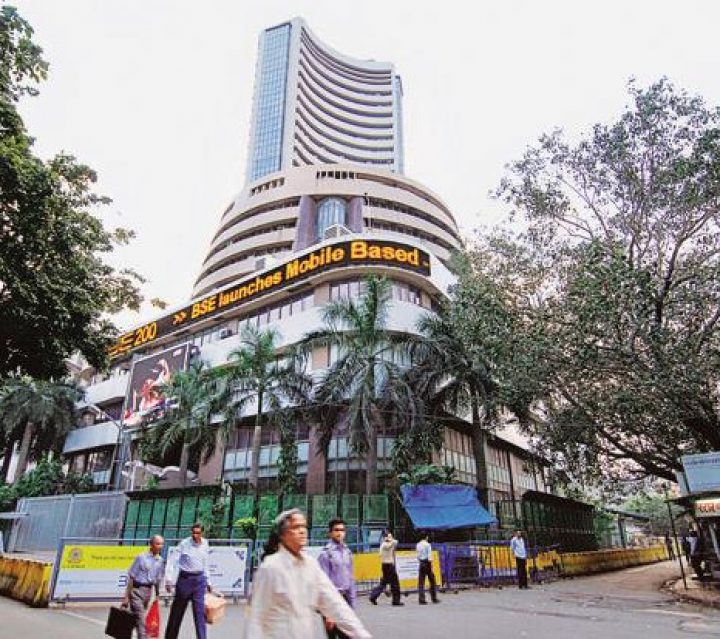 Vakrangee, IDBI Bank, Jain Irrigation, Syndicate Bank, PNB, Canara Bank, JSW Steel, Ceat, VST Tillers and Titan Company were down 1-10 percent.
Info Edge's Q3 net profit fell 32.1 percent sequentially to Rs 53.4 crore on weak operational performance and slow revenue growth.
Revenue grew by 0.9 percent quarter-on-quarter to Rs 227.2 crore while operating profit declined 11.3 percent to Rs 78.8 crore and margin contracted to 34.7 percent against 39.4 percent.
12:52 pm Market Update: Frontline indices as well as broader markets were reeling under selling pressure in afternoon, weighed by LTCG, DDT on equity oriented mutual funds, political uncertainty and likely hike in interest rates.
The 30-share BSE Sensex fell 514.13 points or 1.43 percent to 35,392.53 and the 50-share NSE Nifty declined 148.90 points or 1.35 percent to 10,868.
About eight shares declined for every share rising on the BSE.
Nifty Midcap index fell 3 percent while banks, auto and realty stocks hit hard.
PC Jeweller recovered sharply post management clarification on Vakrangee issue, trimming losses from 60 percent to around 16 percent now.
12:40 pm FM on Budget: Finance Minister Arun Jaitley today said the world's biggest health cover plan announced in the Budget will be cashless and not a reimbursement scheme, and promised more funds if required depending on the rollout later next financial year.
The National Health Protection Scheme (NHPS) touted as ModiCare envisaged to provide medical cover of up to Rs 5 lakh to over 10 crore poor and vulnerable families, constituting 40 percent of total population.
"It takes care of hospitalisation, the secondary and tertiary care. Obviously, it will involve various state hospitals and selected private hospitals. It can be on trust model, it can be on insurance model. It's not on reimbursement.
12:21 pm Crude Oil Update: Oil rose for a third day on Friday after a survey showed strong compliance with output cuts by OPEC and others including Russia, offsetting concerns about surging US production.
Brent futures, the global benchmark, were up 0.27 percent, at USD 69.85 a barrel while US West Texas Intermediate (WTI) crude was up 0.4 percent, at USD 66.07 a barrel.
12:09 pm HDFC on Budget: "Mr Jaitley's last Union Budget before the 2019 Lok Sabha elections was only an elaborate (and somewhat painstaking) statement of the government's financials. It reconfirms our view that Budgets should be seen as accounting statements and not as instruments
of economic policy. The good bit includes the stated intent to glide towards a 3.0 percent fiscal deficit, keep divestment momentum high and net borrowing by Government under a tight leash. Also the push towards formalisation is showing early signs of success: a 28 percent rise in the
effective tax payer base over FY15-17!," HDFC Securities said.
source: moneycontrol.com
Categories: BSE Sensex, Indian share market, Indian Stock exchange, Indian Stock Market, Indian Stock Pick, Stock Market
Comments
Sorry, comments are closed for this item.