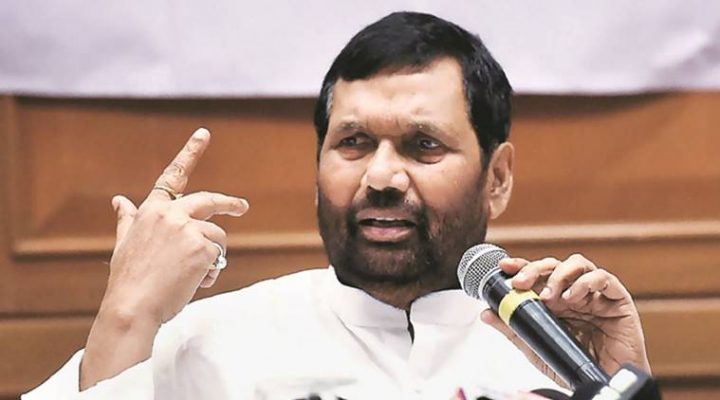 New Delhi: Pasting stickers with revised prices on pre-July stock will not amount to a breach of rules, the government said on Friday, offering relief to companies that had been worried about what to do with products predating the goods and services tax (GST), which kicked in on 1 July.Consumer affairs, food and public distribution minister Ram Vilas Paswan said the decision had been communicated to all chief ministers. He urged them to set up helplines to address consumer grievances during the transition to GST.
"The sticker mentioning revised price shall not overwrite the original MRP (maximum retail price)," Paswan said, adding that stickers would be allowed until 30 September. Goods sold after that date have to carry prices with GST on packages.To ensure that companies and retailers have a way of dealing with older (so-called pre-GST) stock, and prevent profiteering, the government last week announced guidelines allowing companies to print, stamp or use stickers to show the new MRP on a product package.
Packaged consumer goods companies had been worried that they would be violating the rules of the Legal Metrology Organisation, a department that oversees weights, measures and price displays on packs. According to these, stickers aren't allowed on top of the MRP and tampering with MRP is an offence."Stickers with revised prices will not breach any law. Businesses and traders have to pass on all benefits to consumers," said Paswan.
Any default in revising prices in line with a reduction in tax will attract a fine of Rs10,000, explained an official who asked not to be named. According to a report by PTI, non-compliance with printing the revised price will attract imprisonment of up to a year .
"Stickering does not really solve anything as market economics will ensure equilibrium in pricing", once products that have revised lower prices hit the shelves, Gambir added.The ministry also revised the Legal Metrology (Packaged Commodities) Rules, 2011, mandating companies to increase the text size of words and numbers mentioning MRP, net quantity and consumer care details.
Revenue secretary Hasmukh Adhia on Friday appealed to all businesses to paste stickers with revised prices on packages of pre-GST stock."It is not very difficult. The earlier it is done, the better. If you are a company with a large amount of pre-GST stock, at least publish the revised price in newspaper and start putting stickers as early as possible," said Adhia.
Friday's clarification may not solve the problem for packaged consumer goods companies."Our understanding is that if there is unsold inventory of pre-GST regime, then companies have to put stickers on these goods for any price revisions. Also, if the prices are taken up, then in addition to putting stickers they have to also advertise in two newspapers," said Vivek Karve, chief financial officer, Marico Ltd. "However the use of stickers is cumbersome… as we sell millions of packs per month and these reach millions of stores," he added.
"For products that are on the shelves in the millions of outlets across India, stickering them will be logistically challenging, very time-consuming and expensive," said Vivek Gambhir, managing director and chief executive officer, Godrej Consumer Products Ltd.
Source:livemint.com
Categories: Stock Market
Sorry, comments are closed for this item.