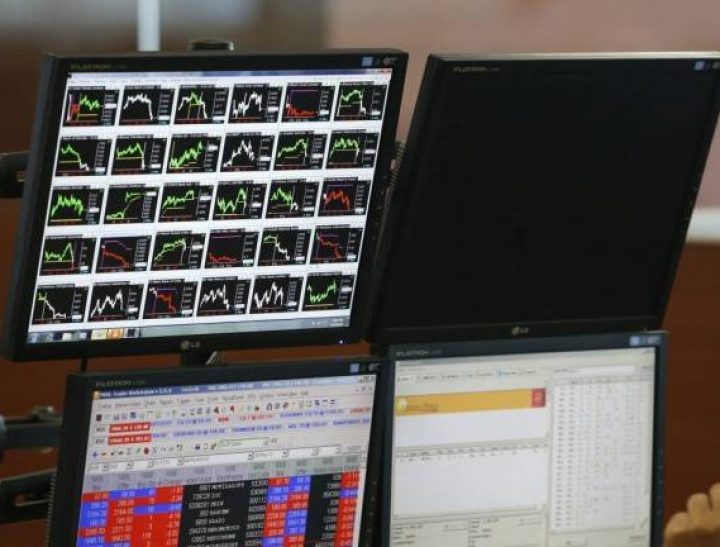 Future Supply Chain Solutions, the logistics arm of the Future Group, lists at a 1.5 percent premium of Rs 674 per share as against its issue price of Rs 664 per share.
Benchmark indices held on to their gains from earlier in the session after BJP was seen forming the government in Gujarat and Himachal Pradesh. In addition, positive cues from other Asian and European equities also supported the sentiment of investors.
3:10 pm Market Check: Equity benchmarks were off day's high a bit in last hour of trading session due to correction in ITC, Infosys and HDFC. Select private banks, too, were off day's high.
The 30-share BSE Sensex was up 179.61 points at 33,642.58 and the 50-share NSE Nifty gained 63 points at 10,396.30. About 1,381 shares advanced against 1,174 declining shares on the BSE.
3:08 pm NTPC's capacities dwindle: State-run power giant NTPC revised its installed and commercial capacities downward to 51,383 MW and 50,583 MW respectively after the Central Electricity Authority (CEA) deleted its 325 MW capacity of Patratu plant.
n last May, the company had informed BSE about addition of 325 MW of Patratu Thermal Power Station of Patratu Vidyut Utpadan Nigam Ltd (PVUNL) to NTPC's Group capacity.
"Based on the decision of the Board of Directors of PVUNL, CEA has deleted capacity of PVUNL units from the database of All India Installed Capacity," NTPC said in a BSE filing today.
Accordingly, NTPC Group's installed capacity is revised from 51,708 MW to 51,383 MW and commercial capacity now stands at 50,583 MW from 50,908 MW.
3:02 pm FRDI Bill: The Financial Resolution and Deposit Insurance Bill may not be introduced in Parliament even during the Budget Session, as the joint committee looking into it today got an extension for submitting its report.
Lok Sabha Speaker Sumitra Mahajan informed the House that extension of time has been granted for the joint panel on the FRDI Bill "up to the last day of Budget Session, 2018".
It also comes at a time when concerns have been raised in some quarters about certain provisions of the bill, which was introduced in the Lok Sabha in August this year.
The joint committee on the FRDI Bill, 2017 have decided to seek extension of time up to the last day of Budget Session, 2018, as the report of the joint committee would not be ready for presentation by December 15.
2:55 pm Natco launches Hepatitis-B drug: Natco Pharma has launched a generic version of Tenofovir Alafenamide, TAF, 25 mg, a once-daily tablet for the treatment of chronic hepatitis B in adults, under its brand TAFNAT, in India.
The drug TAF demonstrates comparable efficacy, with an enhanced renal and bone safety profile as compared to earlier formulation of tenofovir (tenofovir disoproxil fumarate).
TAFNAT is manufactured under license from Medicines Patent Pool (MPP) and Gilead Sciences.
2:45 pm Market Update: The markets are trading firm as both the major indices are holding the gains. The Sensex was up 237.52 points at 33700.49, and the Nifty up 79.40 points at 10412.70. About 1472 shares have advanced, 1062 shares declined, and 138 shares are unchanged.
M&M, SBI, Sun Pharma, ICICI Bank, Cipla, Vedanta and Gail are leading the gainers, while top losers are Coal India, Infosys, ITC, BHEL, HPCL and IOC.
source: moneycontrol.com
Categories: BSE Sensex, Indian share market, Indian sharemarket news, Latest News, Primary Market
Comments
Sorry, comments are closed for this item.