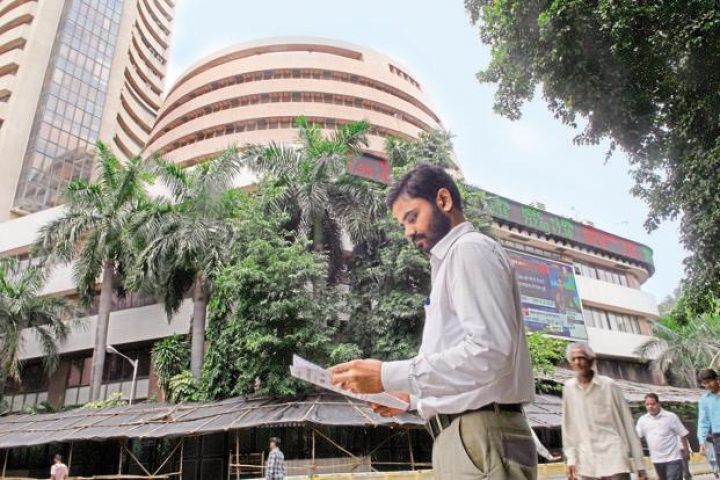 Mumbai: The Sensex plunged over 400 points and the Nifty fell below the 9,900-mark in afternoon trade on Monday on persistent concerns about the US-North Korea tug-of-war amid an exit of foreign capital. All sectoral indices were in the red, dragged down by capital goods, metal, consumer durables and healthcare, falling by up to 2.03%.
Traders said that apart from continuous foreign funds outflows, selling by retail investors amid lingering North Korea tensions led to a further drop in the Sensex. Foreign portfolio investors sold shares worth a net Rs1,241.73 crore on Friday, showed provisional data released by the stock exchanges. Tata Steel, Adani Ports and L&T were major losers, while Power Grid and TCS were top gainers.
Here are the latest updates from the markets:
■ 3.33pm: BSE Sensex closes lower by 295.81 points, or 0.93%, at 31,626.63, while the Nifty 50 fell 89.50 points, or 0.90%, to close at 9,874.90.
■ 3.38pm: Prataap Snacks Ltd's initial public offering was fully subscribed, according to exchange data. The company has priced its shares in a range of Rs930-938 per share. The Rs480 crore IPO will close on 26 September.
■ 2.31pm: BSE Sensex fell 336 points, or 1.05%, at 31,587, while the Nifty 50 fell 119 points, or 1.20%, to 9,845.
■ 2.25pm: Novartis India Ltd said its board has approved a buyback of up to 34,50,000 equity shares of the company for about Rs2.31 billion. Novartis shares fell 7.57% to Rs630.95.
■ 2.15pm: Lupin said it has received approval from the US Food and Drug Administration for generic version of inflammatory skin disorder treatment. Shares of Lupin were down 1.68% at Rs996.55.
■ 2.08pm: The rupee was trading at 65.01 a dollar, down 0.31% from its Friday's close of 64.80. The home currency opened at 64.86 a dollar and touched a low of 65.03.
■ 2.06pm: BSE Sensex was down 450 points, or 1.36%, at 31,489.61, while the Nifty 50 fell 137.80 points, or 1.38%, to 9,827.45.
■ 1.38pm: BSE Sensex was down 369 points, or 1.16%, at 32,552, while the Nifty 50 fell 124 points, or 1.25%, to 9,840.
■ 1.35pm: European stocks open lower in politics dominated trading. The Stoxx Europe 600 fell 0.05%. UK's FTSE 100 dropped 0.4%. Germany's DAX index lost 0.1%. France's CAC 40 was down 1.26%.
■ 12.58pm: BSE Sensex fell by 361 points, or 1.13%, to 32,561, while the Nifty 50 plunged 111 points, or 1.12%, to 9,853.
■ 12.30pm: Thomas Cook (India) Ltd said its board of directors approved signing an agreement with Tata Capital Ltd to buy 100% stake in Tata Capital Forex Ltd. Shares of Thomas Cook were trading 2.65% down at Rs225.95.
■ 11.52am: BSE Sensex was trading lower by 310 points, or 0.97%, to 32,613, while the Nifty 50 plunged 103 points, or 1.04%, to 9,861. Tata Steel, Adani Ports, L&T and Lupin were major losers with losses to the tune of 3.27%, 3.07%, 2.81% and 2.47%.
■ 10.49am: BSE Sensex fell 213 points, or 0.67%, to 32,710, while the Nifty 50 plunged 80 points, or 0.80%, to 9,885.
■ 10.47am: All the sectorial indices were trading in negative territory. The Nifty realty was down 2.27%. the Nifty Bank fell 0.96%. The BSE capital goods lost 2.19% and basic materials was down 2.26%.
■ 10.39am: Infibeam Incorporation Ltd slumped 24% to Rs 109.20 on huge volumes. The stock declined fifth sessions and fell over 31% in this period.
■ 10.20am:BSE Sensex sank 327 points, or 1.02%, to 32,596, while the Nifty 50 fell 109 points, or 1.10%, to 9,855.
■ 10.18am: Coffee Day Enterprises Ltd declines 10% to Rs 210.90 after Hindu news paper reported that the Income Tax department raids on Cafe Coffee Day (CCD) retail chain since Thursday found Rs 650 crore concealed income from the documents seize
■ 10.15am: Capacit'e Infraprojects Ltd has made a strong debut at the exchanges. The construction company was listed at Rs 399, up 59.6% from its issue price of Rs 250 per share on the BSE. The Rs 400 crore initial public offering (IPO) of Capacit'e Infraprojects Ltd was overubscribed 186 times, making its the most subscribed issued of the year so far.
■ 9.55am: BSE Sensex plunged by 233 points, or 0.73%, to 32,689, while the Nifty 50 fell 85 points, or 0.85%, to 9,880.
■ 9.3am: Shoppers Stop Ltd surged 20% to Rs486 after the company said it approved a proposal to sell 5% equity in the company for Rs179.25 crore to Amazon NV Holdings LLC, the investment arm of the world's largest online retailer Amazon Inc. in a board meeting held on Saturday.
■ 9.50am: Deepak Fertilisers & Petrochemicals Corp Ltd rose 2.5% to Rs 374.50 after the company said it will set up an Is Propyl Alcohol (IPA) plant at Taloja for an investment of Rs 450 crore.
■ 9.28am: BSE Sensex trades lower by 185 points, or 0.58%, to 32,737, while the Nifty 50 fell 67 points, or 0.67%, to 9,898.
■ 9.25am: Banking stocks fell. RBL Bank Ltd declined 2.2%, DCB Bank 1.7%, Canara Bank 1.7%, Oriental Bank of Commerce 1.6%, Indian Bank 1.5%, Andhra Bank 1.4%, Allahabad Bank 1.4%, Karnataka Bank 1.3%, Kotak Mahindra Bank 1.2%, Indusind Bank 1.2%, Punjab National Bank 1.1%, South Indian Bank 1%.
■ 9.20am: Glaxosimithkline Pharmaceuticals Ltd rose 2.2% while Oberoi Realty Ltd 7% after Glaxo's board approves sale of 60 acre land in Thane to Oberoi Realty for Rs 555 crore.
■ 9.15am: The home currency opened at 64.86 a dollar. At 9.15am, the rupee was trading at 64.82 a dollar, down 0.02% from its Friday's close of 64.80.
■ 9.13am: The 10-year bond yield was at 6.66%, compared to its previous close of 6.663%. Bond yields and prices move in opposite directions.
■ 9.10am: Asian currencies were trading lower. China Offshore was down 0.25%, Japanese yen 0.21%, China renminbi 0.2%, Singapore dollar 0.12%, Thai Baht 0.04%, Taiwan dollar 0.04%. However, South Korean won was up 0.47%, Malaysian ringgit 0.15%, Philippines peso 0.08%. The dollar index, which measures the US currency's strength against major currencies, was trading at 92.25, up 0.08% from its previous close of 92.171.
Source:livemint.com
Categories: Stock Market
Sorry, comments are closed for this item.