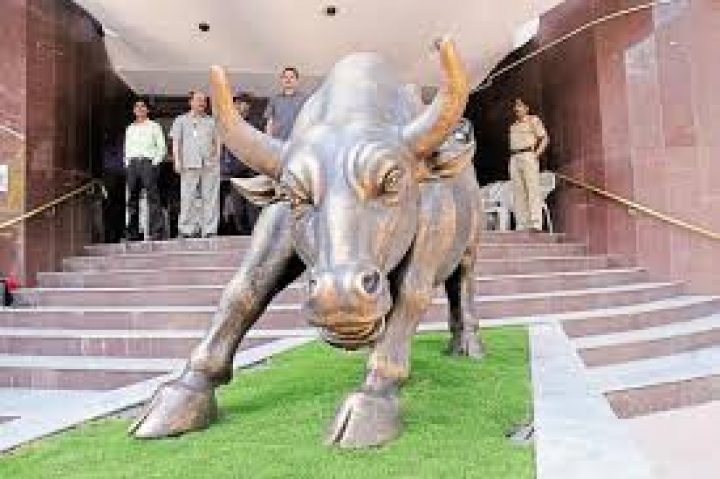 Mumbai: The Sensex rose slightly by 23 points to close at 30,858 points on Thursday. A firm trend in Asia brought risk appetite back. Speculators went about covering their short positions in anticipation of more reforms, today being the expiry of June futures and options derivative contracts.
All sectors were in the green. Realty, metal and capital goods led the upmove, with gains of up to 1.16%. The NSE Nifty too went marginally higher by 13 points, or 0.14%, to 9,504 points. Traders said market sentiment improved largely in line with a better trend at other Asian markets, reflecting overnight gains on Wall Street. A fresh spell of buying by domestic and retail investors after selling shares for several sessions and recovery in the rupee contributed to the lift. Axis Bank, Bharti Airtel, Tata Steel, M&M and L&T stayed in the lead, rising by up to 3.07%. Here are the latest updates
■ 3.30pm: BSE Sensex closed higher by 23 points, or 0.08%, to 30,858, while the Nifty 50 rose 13 points, or 0.14%, to 9,504. BSE metal index rose the maximum by 2.15%, followed by basic material stocks as BSE basic materials index rose by 1.16%. Axis Bank and Tata Steel were the top gainers while SBI and Kotak Mahindra Bank were the biggest losers on BSE.
■ 3.12pm: BSE Sensex trades higher by 7 points, or 0.02%, to 30,841, while the Nifty 50 rises 9 points, or 0.09%, to 9,500.
■ 2.59pm: BSE Sensex trades higher by 140 points, or 0.45%, to 30,974, while the Nifty 50 rises 52 points, or 0.55%, to 9,543. Axis Bank, Tata Steel and Bharti Airtel are the top gainers with profits in the range of 203%, while Sun Pharma and Kotak Mahindra Bank are the major losers with losses in the range of 1%-2.33%.
■ 2.25pm: Realty and telecom stocks surge. BSE telecom index rises by 1.29%, while BSE realty index surges by 1.03%.
■ 1.25pm: BSE Sensex trades higher by 94 points, or 0.30%, to 30,928, while the Nifty 50 rises 35 points, or 0.37%, to 9,526 points.
■ 1.03pm: Metal stocks rise as Nifty metal index rises by 1.48%. JSW Steel rises by 2.76%, Vedanta shares rise by 1.92%, Tata Steel shares rise by 1.81%, and Jindal Steel by 1.76%.
■ 11.50am: BSE Sensex trades higher by 225 points, or 0.73%, to 31,060, while the Nifty 50 rises 71 points, or 0.75%, to 9,562. Axis Bank, Infosys and Tata Steel post maximum gains amongst the 30 benchmark stocks to the tune of 3.31%, 2.04%, and 2%, respectively.
■ 11.40am: BSE Sensex trades higher by 189 points, or 0.61%, to 31,023, while the Nifty 50 rises 67 points, or 0.67%, to 9,555.
■ 11.00am: Shares of Axis Bank Ltd gained as much as 4% after the bank clarified to the exchanges that its 80% insolvent loans seen secured.
■ 10.25am: Credit Analysis and Research (CARE) Ltd on Thursday witnessed a block deals in which around 2.6 million shares or 8.8% stake of the company changed hands in a single block deal. However, details of the buyers and sellers were not know. Following this, the shares of Credit Analysis and Research Ltd surged as much as 16.2%.
■ 10.00am: Shares of Eris Lifesciences Ltd rose 4% on debut on Thursday after its Rs1,741.1 crore initial public offer (IPO) received a subscription of more than 3 times when it closed earlier this month.
■ 9.32am: BSE Sensex trades higher by 160 points, or 0.52%, to 30,994, while the Nifty 50 rises 48 points, or 0.51%, to 9,540.
■ 9.30am: Axis Bank Ltd rose 2% to Rs501. The bank said in a notice to BSE that it had exposure to eight accounts that the Reserve Bank of India (RBI) had advised on initiating insolvency resolution process. The bank said total fund-based outstanding of bank on these accounts was Rs5,071 crore; non-fund based outstanding was Rs212 crore.
■ 9.27am: Rashtriya Chemicals & Fertilizers (RCF) Ltd fell 5% to Rs76.65. The government will sell over 2.75 crore equity shares in RCF on 29-30 June for about Rs200 crore as part of its plan to divest shares in PSUs.
■ 9.25am: Care Ratings and Research Ltd rose 6% to Rs1,515 after a huge block deal. Around 2.6 million shares or 8.8% stake of the company changed hands, according to Bloomberg report. However, details of the buyers and sellers were not known.
■ 9.20am: Godrej Industries Ltd rose 1.3% to Rs626 after the company said it participated in the initial public offer (IPO) of equity shares by Godrej Agrovet Ltd (GAVL) by way of proposed sale of such number of equity shares in GAVL up to Rs400 crore.
■ 9.15am: The rupee opened at 64.46 a dollar. At 9.15am, the rupee was trading at 64.47 a dollar, up 0.15% from its Wednesday's close of 64.55.
■ 9.10am: Amtek group stocks trade higher. Amtek Auto Ltd shares rise 5%, Metalyst Forgings Ltd shares rise 5%, Castex Technologies Ltd 11%, JMT Auto Ltd 10%.
■ 9.05am: The 10-year bond yield was at 6.497% compared to its previous close of 6.498%. Bond yields and prices move in opposite directions.
■ 9.00am: Asian currencies were trading higher after central bankers around the world signalled that interest rates may need to rise with the global economy solid enough to withstand tighter financial conditions. South Korean won was up 0.42%, China renminbi 0.3%, China offshore 0.22%, Taiwan dollar 0.2%, Indonesian rupiah 0.12%, Philippines peso 0.12%, Singapore dollar 0.08% and Malaysian ringgit 0.05%.
■ 8.50am: US markets closed higher. S&P 500 gained 0.88% to 2,440 on gains in shares of financial services companies. Tracking the cues Asian markets opened with gains.
Categories: Stock Market
Sorry, comments are closed for this item.