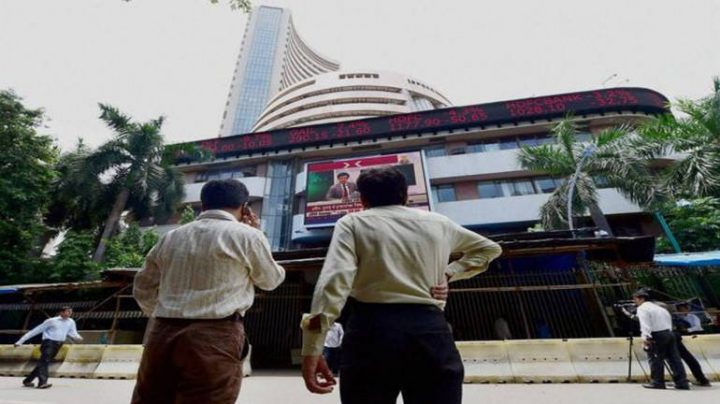 Mumbai: BSE Sensex closed lower by 27 points to 31,600 points and NSE Nifty closed flat in volatile trading on Tuesday as investors remained cautious over continued tensions on the Korean Peninsula. North Korea's foreign minister said on Monday that the US had declared war on the country and Pyongyang reserved the right to take countermeasures.
Asian shares withered, with MSCI's broadest index of Asia-Pacific shares outside Japan shedding as much as 0.7% to a near three-week low. "Generally, there's a little bit of spookiness which has come about because of geopolitical events surrounding North Korea," said Nitasha Shankar, senior vice president and head of research, YES Securities. Investors await US Federal Reserve Chair Janet Yellen's speech later in the day for clarity on whether the Fed will stick to its plan to raise interest rates in December.
Here are the latest updates from the markets:
■ 3.35pm: BSE Sensex closed lower by 26.87 points, or 0.08%, to 31,599.76, while the Nifty 50 edged down 1.10 points, or 0.01%, to 9,871.50.
■ 3.02pm: BSE Sensex fell 5 points, or 0.02%, to 31,621, while the Nifty 50 was up 1 points, or 0.01%, to 9,874.
■ 2.55pm: Godrej Agrovet Ltd has set a price range of Rs450-460 a share for its initial public offering to raise up to Rs1,160 crore ($177.6 million), according to a public notice on Tuesday.
■ 2.50pm: The rupee was trading at 65.39 a dollar, down 0.39% from its Monday's close of 65.12. The home currency opened at 65.22 a dollar and touched a low of 65.44—a level last seen on 24 March.
■ 2.27pm: BSE Sensex rises 34 points, or 0.11%, to 31,660, while the Nifty 50 was up 16 points, or 0.16%, to 9,888.
■ 2.07pm: BSE Sensex fell 22 points, or 0.07%, to 31,605, while the Nifty 50 lost 5 points, or 0.05%, to 9,867.
■ 2.04pm: Madhucon Projects Ltd said that it is in process of doing strategic sale of its road projects to prospective buyers, but added that it has not yet finalised the buyers. Shares of Madhucon were trading 5.77% up at Rs28.40.
■ 2.02pm: Vista Pharmaceuticals Ltd said that it has submitted an abbreviated new drug application to the US Food and Drug Administration for a cardiac drug in partnership with a US based company. The company's shares rose 4.79% to Rs52.50.
■ 1.37pm: BSE Sensex fell 26 points, or 0.08%, to 31,601, while the Nifty 50 lost 6 points, or 0.06%, to 9,867. ONGC, Tata Steel, Axis Bank and Lupin were major gainers, whereas Hindustan Unilever, Dr Reddy's Labs, Bharti Airtel and Asian Paints were top losers.
■ 12.57pm: Avenue Supermarts Ltd surged 9% to Rs 1122 after brokerage firm Goldman Sachs initiated coverage with a buy rating and increased its target price to Rs 1586 a share, up 54.2%.
■ 12.39pm: BSE Sensex was trading lower by 109 points, or 0.35%, to 31,517, while the Nifty 50 fell 34 points, or 0.34%, to 9,839.
■ 12.30pm: Among the sectorial indices, the BSE metal gained most by rising 2.07% led by Vedanta Ltd up 3.03%, Jindal Steel 2.65% and Hindustan Zinc 2.50%. The BSE realty was up 1.54% and basic materials rose 0.71%.
■ 12.20pm: Thomas Cook (India) Ltd disclosed that it is acquiring Tata Capital's forex and travel services businesses for Rs12 crore. Travel services firm Thomas Cook on Monday said its board has agreed to acquire Tata Capital Forex Ltd and TC Travel and Services Ltd, units of Tata Capital Financial Services Ltd. Shares of Thomas Cook rose 1.69% to Rs235.05 on BSE.
■ 11.55am: BSE Sensex fell by 135 points, or 0.43%, to 31,491, while the Nifty 50 lost 45 points, or 0.45%, to 9,828. BSE midcap index was down 0.12%, whereas the small cap rose 0.10%.
■ 11.53am: The Nifty Bank and the BSE bankex were down 0.50%. The Reserve Bank of India on Monday barred banks from investing in category III alternative investment funds , specified norms for their participation in commodity derivatives clearing, and tweaked rules on investing in financial services firms.
■ 11.50am: Life Insurance Corporation of India (LIC) has acquired an over 4.5% stake in public sector lender Dena Bank in preferential allotment of shares over a period of nearly three months to mid-September. Dena Bank shares rose 1.13% to Rs31.45 on BSE.
■ 10.59am: BSE Sensex fell by 143 points, or 0.45%, to 31,484, while the Nifty 50 lost 45 points, or 0.45%, to 9,828.
■ 10.55am: Oil marketing companies were trading lower while Oil exploration stocks gained after international crude oil prices rose. Oil marketing companies like Bharat Petroleum Corp Ltd fell 4%, Hindustan Petroleum Corp Ltd 3%, Indian Oil Corp Ltd 2.6%. Oil exploration stocks like Dolphin Offshore Enterprises gained 11%, Aban Offshore 7.7%, Selan Exploration Technology 6%, Hindustan Oil Exploration Company 5% and Jindal Drilling & Industries Ltd 5%.
Oil prices extended gains on Tuesday, with Brent crude hitting a 26-month high, supported by Turkey's threat to cut crude flows from Iraq's Kurdistan region to the outside world, Reuters reported.
■ 10.31am: BSE Sensex fell by 73.26 points, or 0.23%, to 31,553.37, while the Nifty 50 lost 29 points, or 0.29%, to 9,843.70.
■ 10.25am: Madhucon Projects Ltd rose 7% to Rs 28.70 after Mint reported that Canadian asset manager Brookfield Asset Management Inc. is in talks with infrastructure company Madhucon Projects Ltd to acquire toll roads worth up to Rs2,000 crore.
■ 10.23am: Deep Industries Ltd rose 10% to Rs 234.40 after huge block deal. Around 8.96 million shares or 28% stake of the company changed hands in a block deal, Bloomberg reported. However, details of the buyers and sellers were not known.
■ 9.50am: BSE Sensex traded little changed at 31,618.74, down 7.89 points, or 0.02%, while the Nifty 50 fell 13.80 points, or 0.14%, to 9,855.80.
■ 9.48am: Hindustan Unilever Ltd fell 2% to Rs 1222.55. The company said in a presentation to the exchanges that subdued consumer markets, demonetization and introduction of goods and services tax were key challenges in the last few quarters. Volatile commodity costs also created a challenging environment. Trade situation improving gradually, wholesale channel now stabilizing.
■ 9.45am: Banking stocks fell. Central Bank of India fell 1.7%, Karnataka Bank 1.2%, State Bank of India 0.9%, RBL Bank 0.8%, Punjab National Bank 0.8%, Bank of Baroda 0.8%, South Indian Bank 0.7%, Federal Bank 0.7%, Bank of India 0.6%.
■ 9.26am: BSE Sensex opens lower by 43.85 points, or 0.14%, to 31,582.87, while the Nifty 50 fell 17.75 points, or 0.18%, to 9,854.85.
■ 9.25am: Aviation stocks fell after Brent crude hit highest level since July 2015. Jet Airways India Ltd declined 3%, SpiceJet Ltd fell 3.1% while InterGlobe Aviation Ltd 0.5%.
■ 9.20am: IFCI Ltd rose 3.5% to Rs 23.60 after the company said it approved sale of 0.86% stake in NSE to investors.
■ 9.17am: DS Kulkarni Developers Ltd fell 5% to Rs 24.40 after the company said its board will meet on 3 October to consider financial restructuring.
■ 9.15am: The rupee opened at 65.22 a dollar and touched a low of 65.27 – a level last seen on 24 March. At 9.15am, the rupee was trading at 65.19 a dollar, down 0.16% from its Monday's close of 65.12.
■ 9.13am: The 10-year bond yield was at 6.632%, compared to its previous close of 6.619%. Bond yields and prices move in opposite directions.
■ 9.10am: Asian currencies were trading lower. South Korean won was down 0.36%, Indonesian rupiah 0.2%, Philippines peso 0.17%, Malaysian ringgit 0.15%, Thai baht 0.15%, Taiwan dollar 0.08%. However, Japanese yen was up 0.1%, Singapore dollar 0.05%. The dollar index, which measures the US currency's strength against major currencies, was trading at 92.574, down 0.08% from its previous close of 92.648.
Source:livemint.com
Categories: Stock Market
Sorry, comments are closed for this item.