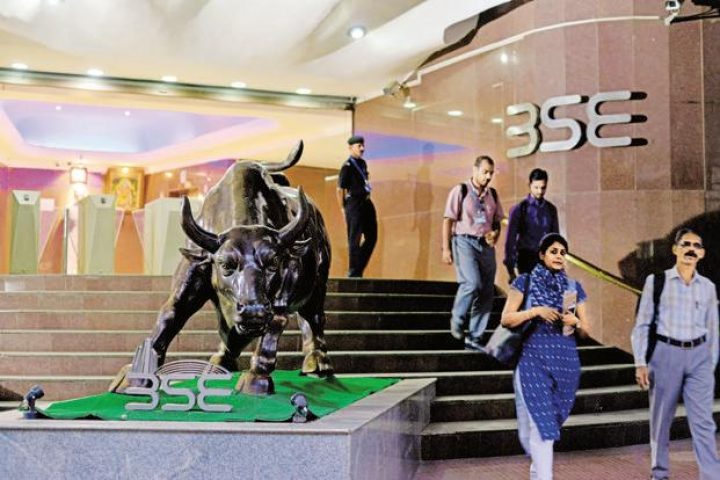 Mumbai: Indian shares rose to record highs on Wednesday as banks soared after the cabinet unveiled a Rs2.11 trillion recapitalisation plan, while construction stocks rallied after the government approved an Rs6.92 trillion investment plan. State Bank of India was the top percentage gainer in the NSE Nifty, surging as much as 27% to its highest since January 2015. Larsen & Toubro was the third-largest gainer in the index as it rose as much as 6.3%.
Analysts said the actions could help improve an economy that has grown at its lowest in three years, and extend a record-setting rally in share markets this year. "We see India continuing to set itself up well – through fairly aggressive reforms, corporate discipline, favourable macros, and now a stab at addressing a key cog in that wheel. We remain positive on markets, and maintain our 11,100 Nifty target," Edelweiss analysts wrote in a note. Here are the latest updates from the markets
■ 3.33pm: BSE Sensex closed higher by 435.16 points, or 1.33%, to 33,042.50, while the Nifty 50 rose 87.65 points, or 0.86%, to close at 10,295.35.
■ 3.32pm: SBI, ICICI Bank, L&T and Axis Bank were top gainers with gains to the tune of 26.58%, 14.47%, 5.31% and 4.90%. Meanwhile, Kotak Bank and HDFC Bank fell 4.94% and 3.95%, respectively.
■ 2.50pm: HDFC Standard Life Insurance Co. Ltd's IPO will open for subscription from 7 November and close on 9 November, Reuters reported.
■ 2.45pm: IDFC Bank Ltd's net profit fell to 40% to Rs234 crore in the second quarter. Gross bad loans as a percentage of total loans stood at 3.92% at end-September, compared with 4.13% in the preceding quarter and 5.96% a year earlier. The bank's share were trading 1.84% up at Rs58.10.
■ 2.38pm: BSE Sensex traded higher by 479.70 points, or 1.47%, to 33,087.04, while the Nifty 50 gained 94.95 points, or 0.93%, to 10,302.65. The midcap was up 0.19%, while the smallcap fell 0.21%.
■ 2.35pm: Among the sectoral indices, the Bankex rose 4.93%, consumer goods was up 3.56%, industrial rose 1.94% and finance gained 1.56%. Meanwhile, healthcare and realty were down 0.91% and 0.60%, respectively.
■ 2.30pm: The European Stoxx 600 fell 0.1%, UK's FTSE 100 lost 0.37%, Germany's DAX was down 0.11% and France's CAC 40 rose 0.07%.
■ 1.19pm: BSE Sensex rose 455.86 points, or 1.40%, to 33,063.20, while the Nifty 50 gained 84.80 points, or 0.83%, to 10,292.50.
■ 1.17pm: Yes Bank Ltd, HDFC Bank, Indusind Bank and Kotak Mahindra Bank lost a combined Rs34000 crore market capitalisation after state owned bank surged. HDFC Bank lost over Rs15000 crore market cap, Yes Bank Ltd erased Rs 3710 crore, Kotak Mahindra Bank over Rs10,000 crore while Indusind Bank Rs 4200 crore.
■ 1.14pm: Kotak Mahindra Bank reported a 22% increase in its second quarter net profit. The private bank reported a net profit of Rs994.31 crore in the quarter ended 30 September, compared to Rs813.29 crore a year ago. The bank's shares were down 4.16% at Rs1023.25 on BSE.
■ 12.53pm: BSE Sensex rose 342.19 points, or 1.05%, to 32,949.53, while the Nifty 50 gained 55 points, or 0.54%, to 10,262.70.
■ 12.46pm: HCL Technologies Ltd reported an increase of 0.8% in net profit quarter-on-quarter at Rs2,188 crore and 8.6% rise year-on-year for the September quarter. Shares of HCl were trading lower by 4.01% at Rs876.85 on BSE.
■ 12.27pm: Khadim India's initial public offering will run from 2-6 November, Reuters reported. Khadim India's IPO comprises fresh issue of equity shares aggregating up to Rs50 crore and an offer for sale of up to 6,574,093 equity shares by the existing shareholders
■ 12.03pm: BSE Sensex rose 325.77 points, or 1%, to 32,933.11, while the Nifty 50 gained 60.45 points, or 0.59%, to 10,268.15.
■ 11.55am: Reliance Nippon Life Asset Management Ltd's initial public offering (IPO) was subscribed 2.15 times on the first day of the share sale on Wednesday. As of 11am, the IPO received bids for 92,193,931 shares against the total issue size of 42,840,000 shares, according to NSE data. The IPO will close on 27 October.
■ 11.50am: Shares of state-owned General Insurance Corp. of India Ltd's (GIC Re) debuted 6.8% lower on the bourses on Wednesday, even as the country's second-largest initial public offer (IPO), which raised Rs11,372 crore, was subscribed 1.38 times earlier this month.
■ 11.10am: BSE Sensex rose 283.93 points, or 0.87%, to 32,891.27, while the Nifty 50 gained 53 points, or 0.52%, to 10,260.70.
■ 11.05am: NBFC stocks fell. Cholamandalam Investment and Finance Co Ltd fell 5%, Edelweiss Financial Services Ltd 5%, Indiabulls Housing Finance 4%, Can Fin Home 4%, Shriram Transport Finance 3.7%, Bharat Financial Inclusion 3.6%, Dewan Housing Finance 3%, L&T Finance Ltd 3%, Bajaj Finance Ltd 3%, Repco Home Finance 2.6%, HDFC Ltd 2.3%, Mahindra & Mahindra Finance 4%.
■ 11.00am: Private Bank stocks fell. Yes Bank Ltd fell 3.5%, HDFC Bank Ltd 3.4%, Indusind Bank 3.3%, Kotak Mahindra Bank 3%, Federal Bank 2%.
■ 9.53am: BSE Sensex rose 249.20 points, or 0.76%, to 32,856.54, while the Nifty 50 gained 51.45 points, or 0.50%, to 10,259.15.
■ 9.50am: Reliance Nippon Life Asset Management Ltd, India's third-largest mutual fund manager, opens its Rs1,542 crore initial public offering (IPO) on Wednesday. Analysts have recommended subscribing to the IPO with a long-term view. The Reliance Nippon AMC IPO has set a price band of Rs247-252 per share.
■ 9.47am: The government also announced an outlay of Rs6.92 trillion for building an 83,677 km road network over the next five years. Larsen & Toubro Ltd jumped 3%.
■ 9.25am: BSE Sensex opened higher by 310.67 points, or 0.95%, to 32,918.01, while the Nifty 50 rose 76.75 points, or 0.75%, to 10,284.45.
■ 9.23am: State Bank of India surged nearly 26%, its biggest jump since January 1994, Punjab National Bank 36%, Bank of Baroda 26%, Bank of India 21%, Union Bank of India 21%, Corporation Bank 20%, Canara Bank 20%, Oriental Bank of Commerce 19%, Uco Bank 16%, Indian Overseas Bank 16%, IDBI Bank 16%, Andhra Bank 15%, Central Bank of India 14%, Allahabad Bank 13%, ICICI Bank 11%.
However, investors booked profit in private sector banks. Kotak Mahindra Bank fell 3.7% while HDFC Bank Ltd declined 3%.
■ 9.20am: PSU Bank surged after the finance ministry on Tuesday announced a Rs2.11 trillion bank recapitalisation plan for state-owned lenders weighed down by bad loans, seeking to stimulate the flow of credit to spur private investment.
■ 9.15am: The rupee opened at 65.12 a dollar. At 9.15am, the home currency was trading at 65.13 against the dollar, down 0.11% from its Tuesday's close of 65.07.
■ 9.13am: The 10-year bond yield was at 6.817%—a level last seen on 12 May, compared to its previous close of 6.775%. Bond yields and prices move in opposite directions.
■ 9.10am: Asian currencies were trading lower. Indonesian rupiah was down 0.28%, Philippines peso 0.17%, China renminbi 0.11%, South Korean won 0.07%, Malaysian ringgit 0.05%, Taiwan dollar 0.04%. The dollar index, which measures the US currency's strength against major currencies, was trading at 93.963, up 0.20% from its previous close of 93.772.
Source:livemint.com
Categories: Stock Market
Sorry, comments are closed for this item.