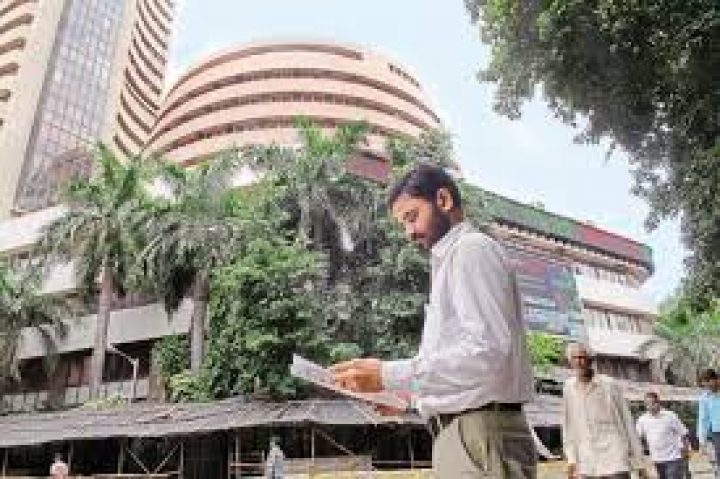 Mumbai: Indian shares nudged up on Thursday, after having ended lower in the previous session. However, gains were muted ahead of key corporate results including that of TCS, which will report later in the day. Meanwhile, India's inflation data for September will be released later in the day. Consumer inflation is forecast to have risen to 3.60% in the month, above August's 3.36%, according to a Reuters poll.
"Market has been witnessing a broad-based consolidation mode for a few months now which will continue for a while. This earnings season is critical as the first quarter was disappointing and hopes are now pinned to see a recovery in the second quarter," said Rakesh Tarway, head of research at Reliance Securities.
Here are the latest updates from the market:
■ 3.33pm: BSE Sensex closed higher by 348.23 points, or 1.09%, to 32,182.22, while the Nifty 50 jumped 111.60 points, or 1.12%, to close at 10,096.40.
■ 3.28pm: All the sectoral indices were trading in positive territory. the BSE Metal and Energy rose more than 2%. FMCG, finance, healthcare and industrials rose more than 1%.
■ 3.25pm: RIL, Sun Pharma, TCS and Adani Ports were top gainers with gains to the tune of 4.18%, 2.62%, 1.88% and 1.80%, respectively. Meanwhile, Bharti Airtel fell 0.92% and Infosys was down 0.28%.
■ 3.10pm: BSE Sensex surged 328.56 points, or 1.03%, to 32,162.55, while the Nifty 50 jumped 99.05 points, or 0.99%, to 10,083.85
■ 3.05pm: Cyient shares gained 1.22% to Rs525.50. The company's Q2 profit rose 14.6% to Rs1,114 crore.
■ 3.03pm: MAN Industries (India) Ltd's shares jumped 20% to Rs109.50 after the company announced that it has received a Rs925 crores order from GAIL (India) Ltd. for supply of about 1,16,000 MT of line pipes.
■ 3.00pm: Indian Oil Corp. Ltd said it is not considering any proposal for merger of Chennai Petroleum Corp Ltd with the company. Shares of IOCL were trading 0.67% down at Rs415 on BSE.
■ 2.36pm: BSE Sensex surged 224.28 points, or 0.70%, to 32,058.27, while the Nifty 50 rose 75.30 points, or 0.75%, to 10,060.10.
■ 1.58pm: BSE Sensex gained 107.86 points, or 0.34%, to 31,941.85, while the Nifty 50 rose 37.75 points, or 0.38%, to 10,022.55.
■ 1.50pm: IndusInd Bank shares rose 0.68% to Rs1729 on BSE after the bank said its Q2 profit rose 25% to Rs880 crore. The bank's net interest stood at Rs4,208 crore versus Rs3,486 crore last year. The company's gross NPA were at 1.08% versus 1.09% in the previous quarter.
■ 1.40pm: European shares traded sideways in early deals on Thursday despite new highs in Asia and on Wall Street. The pan-European STOXX 600 index was up 0.01%, France's CAC 40 and Spain's IBEX were down 0.1%. Frankfurt's DAX fell 0.05% and the FTSE 100 lost 0.01%.
■ 12.52pm: BSE Sensex was trading higher by 94.31 points, or 0.30%, to 31,928.30, while the Nifty 50 gained 37.40 points, or 0.37%, to 10,022.20.
■ 12.50pm: Himachal Futuristic Communications Ltd shares rose 4.90% to Rs25.70. The company said it was awarded purchase orders worth Rs558 crore from Bharat Sanchar Nigam Ltd.
■ 12.45pm: Cadila Healthcare said Zydus Cadila has received final approval from the US FDA to market depression treatment tablets. Shares of Cadila Healthcare were trading 2.17% up at Rs502 on BSE.
■ 11.40am: BSE Sensex rose 105.01 points, or 0.33%, to 31,939, while the Nifty 50 gained 36.20 points, or 0.36%, to 10,021.
■ 11.35am: The BSE Metal index rose 1.27% led by Hindalco, which was up 4.89%, National Aluminium 4.21%, Vedanta 1.67%, Jindal Steel 1.62%.
■ 11.33am: Prakash Industries shares were up 3.88% to Rs136.50 after the company announced that it has secured additional 100% long-term coal linkage for sponge iron.
■ 11.31am: Shares of Zen Technologies rose 5.27% to Rs64.90 after the company said it has signed an export order worth Rs64 crore for lvie and virtual combat training systems.
■ 10.38am: BSE Sensex was up 94.61 points, or 0.30%, at 31,928.60, while the Nifty 50 gained 31.75 points, or 0.32%, to 10,016.55.
■ 10.35am: Indiabulls Real Estate Ltd rose 6.3% to Rs228.95 after the company said it will buy Singapore listed IPIT's unit at S$0.90 each. Indiabulls Real Estate will pay S$289.6m to buyout Farllon Group's 43% stake in Indiabulls Properties Investment Trust.
■ 10.30am: IndusInd Bank gained 0.2% to Rs1720.40 ahead of its September quarter earnings. According to 15 Bloomberg estimates, the bank may report profit of Rs886.50 crore
■ 10.05pm: BSE Sensex rose 104.86 points, or 0.33%, to 31,938.85, while the Nifty 50 gained 34.95 points, or 0.35%, to 10,019.75.
■ 10.00am: Lakshmi Vilas Bank fell 5% to Rs134.35 after the bank reported 84% decline in its September quarter net profit to Rs10.50 crore against Rs64.85 crore a year ago due to Rs80.43 crore fraud relating to commodity finance transaction.
■ 9.55am: Banking stocks trading lower. Oriental Bank of Commerce fell 2.7%, Canara Bank 2%, Bank of India 1.4%, Bank of Baroda 1.2%, Union Bank of India 1.2%, Syndicate Bank 1.1%, Indian Bank 1.1%, Punjab National Bank 1.1%, Allahabad Bank 1.1%, Andhra Bank 1%, Dena Bank 0.8%, ICICI Bank 0.8%.
■ 9.53am: Reliance Nippon Life Asset Management Ltd sets price band for its initial public offering at Rs247-252 per share, reported Reuters. The Securities and Exchange Board of India issued its observations on the proposed IPO of Reliance Nippon on 5 October.‍​
■ 9.25am: BSE Sensex opened little changed at 31,839.14, up 5.15 points, or 0.02%, while the Nifty 50 edged up 9.65 points, or 0.10%, to 9,994.45.
■ 9.23am: Sun Pharmaceuticals Industries Ltd added 3% to Rs541.85 after the company said in a notice to BSE that the US Food and Drug Administration (FDA) has cleared its manufacturing facility at Dadra, which was issued a Form-483 by the regulator earlier this year due to violation of good manufacturing practices (GMP).
■ 9.20am: Tata Consultancy Services Ltd rose 0.7% to Rs2516.70 ahead of its September quarter earnings due later on Thursday. According to 24 Bloomberg analysts, the company may post net profit of Rs6,283.50 crore while net sales will be at Rs3,0501.60 crore.
■ 9.17am: Reliance Industries Ltd gained 1% to Rs848.50 ahead of its September quarter earnings on Friday. Stand-alone quarterly net profit is likely to increase to Rs8,687.5 crore on revenue of Rs66,088 crore, according to a Bloomberg poll of seven analysts.
■ 9.15am: The rupee opened at 65.15 a dollar. At 9.15am, the home currency was trading at 65.13 against the dollar, up 0.01% from its Wednesday's close of 65.14.
■ 9.13am: The 10-year bond yield was at 6.732%, compared to its previous close of 6.741%. Bond yields and prices move in opposite directions.
■ 9.10am: Asian currencies were trading higher after the Federal Reserve released a summary from its previous meeting that showed it believes the economy is strong enough to withstand another rate hike in December. Thai baht was up 0.14%, Philippines peso 0.11%, Indonesian rupiah 0.09%, Japanese yen 0.09%, Taiwan dollar 0.08%, Malaysian ringgit 0.04%. However, China Offshore was down 0.19%, China renminbi 0.06%. The dollar index, which measures the US currency's strength against major currencies, was trading at 92.875, down 0.15% from its previous close of 93.015.
Source:livemint.com
Categories: Stock Market
Sorry, comments are closed for this item.