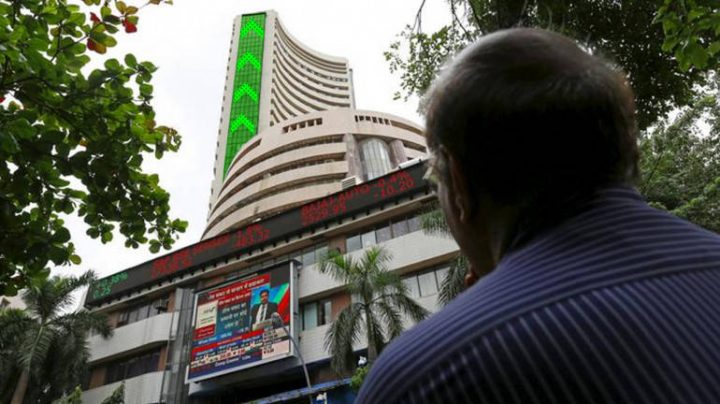 Mumbai: Shares were little changed on Tuesday after hitting record highs in the previous session, as investors turned cautious ahead of key corporate results and as profit booking in index heavyweights such as Reliance Industries and Tata Motors capped gains. India's third-largest software services exporter Wipro and Axis Bank, the third-biggest private sector lender by assets, are set to report second-quarter results later in the day.
"As markets touch record-high levels, it is only natural to see some profit-booking," said Sudhakar Pattabiraman, head of research operations at MarketSmith India, which is part of financial services provider William O'Neil India. "The key focus now is on how the corporate results season will pan out this quarter, but overall, we are very bullish on the markets and see no major hiccups at this point." Here are the latest updates from the markets:
■ 3.33pm: BSE Sensex closed lower by 24.48 points, or 0.08%, to 32,609.16, while the Nifty 50 edged up 3.60 points, or 0.04%, to close at 10,234.45. The midcap index was up 0.40% and smallcap rose 0.53%.
■ 3.31pm: Cipla, Bharti Airtel, Asian Paints and Bajaj Auto were top gainers with gains to the tune of 3.97%, 2.65%, 2.11% and 1.09%, respectively. Meanwhile, Axis Bank, Tata Motors and Infosys were top losers.
■ 3.01pm: Shares of ACC Ltd rose 1.01% to Rs1803 as the company's quarterly profit more than doubled, beating analysts' expectations. Profit rose to Rs182 crore in third quarter from Rs89.71 crore a year earlier. Cement sales volume rose about 18% to 5.96 million tonnes in the quarter.
■ 2.40pm: BSE Sensex fell 5.27 points, or 0.02%, to 32,628.37, while the Nifty 50 edged up 4.15 points, or 0.04%, to 10,235.00.
■ 2.38pm: Most of the sectoral indices were trading in positive territory, except consumer durables, bankex and IT index. Among the top gainers, realty was up 0.84%, oil and gas gained 0.77% and capital goods rose 0.70%.
■ 2.32pm: The BSE Telecom index rose 2.38% led by Idea, which was up 5.24%, Bharti Airtel 2.72%, GTL 8.9%, HFCL 5%, TTML 4.87%.
■ 2.11pm: BSE Sensex fell 15 points, or 0.05%, to 32,618.69, while the Nifty 50 edged up 2 points, or 0.02%, to 10,232.85.
■ 1.42pm: Panacea Biotech Ltd shares surged 7.28% to Rs241.70 after the company announced that it has received the GMP compliance certificate from the State Services of Ukraine on Medical and Drug Control.
■ 1.27pm: Bajaj Auto Ltd shares rose 1.96% to Rs3285.05. The company reported a 1% fall in quarterly profit, in line with analysts' expectations, Reuters reported. Net profit for the September quarter came in at Rs1,112 crore, compared with Rs1,123 crore last year. Total revenue from operations for the quarter rose about 2% to Rs6,566 crore.
■ 1.20pm: BSE Sensex fell 45.71 points, or 0.14%, to 32,587.93, while the Nifty 50 edged down 7 points, or 0.07%, to 10,223.85.
■ 1.17pm: MAS Financial Services Ltd, a non-banking financial company, will make stock market debut on 18 October. The Rs460-crore initial public offer (IPO) was subscribed 128 times from 6-10 October.
■ 1.15pm: The European Stoxx 600 rose 0.1%. UK's FTSE fell less than 0.01%. Germany's DAX lost 0.05%.
■ 12.28pm: BSE Sensex fell 36.33 points, or 0.11%, to 32,597.31, while the Nifty 50 edged down 3.45 points, or 0.03%, to 10,227.40.
■ 12.18pm: DB Realty Ltd on Tuesday said the company has reached a debt settlement agreement with LIC Housing Finance Ltd. DB Realty shares were trading at Rs37.10, up 8.32%. The share surged as much as 20% to Rs41.10 intraday.
■ 11.47am: BSE Sensex rose 12.91 points, or 0.04%, to 32,646.55, while the Nifty 50 edged up 13.40 points, or 0.13%, to 10,244.25.
■ 11.40am: HDFC Standard Life Insurance Co. Ltd has received approval from the Securities and Exchange Board of India (Sebi) to raise an estimated Rs7,500 crore through an initial public offering (IPO). The public issue comprises sale of 191,246,050 equity shares, amounting to 9.55% stake, by HDFC Ltd and up to 108,581,768 scrips, or 5.42%, holding by Standard Life Mauritius, according to the draft red herring prospectus filed with Sebi.
■ 10.54am: Shares of Aurobindo Pharma Ltd rose 1.53% to Rs769.20 after the company said it has received final approval from the US FDA to manufacture a therapeutic equivalent generic version of AstraZeneca's Nexium 24HR Capsules.
■ 10.37am: BSE Sensex fell 43.53 points, or 0.13%, to 32,590.11, while the Nifty 50 edged down 3.30 points, or 0.03%, to 10,227.55.
■ 10.35am: Jaiprakash Power Ventures Ltd hits 10% upper circuit after news report said that Brookfield, Resurgent Power, India Power, Edelweiss ARC and JSW Energy submitted bids to buy 30 percent stake in the company.
■ 10.30am: Aries Agro Ltd rose 14% to Rs 237.10 after ace investor Vijay Kedia bought 2.6 lakh shares or 2 percent stake at Rs 199.93 each.
■ 10.07am: BSE Sensex fell 41.62 points, or 0.13%, to 32,592.02, while the Nifty 50 edged down 8 points, or 0.08%, to 10,222.85.
■ 10.05am: Persistent Systems Ltd rose 2% to Rs 674.75 after the company reported better then expected earnings for September quarter. It reported profit of Rs 82.62 crore against Bloomberg estimates of Rs 77.99 crore.
■ 10.00am: Sasken Technologies Ltd rose 4.2% to Rs 550 after the company reported 55% increase in its net profit in September quarter to Rs 18.77 crore against Rs 12.12 crore a year ago.
■ 10.55am: Prime Focus Ltd hit 20% upper circuit to Rs 106.95 after brokerage firm Motilal Oswal Securities has initiated coverage with a 'Buy' rating and price target of Rs 130.
■ 10.53am: JM Financial Ltd fell 1.1% to Rs 184 after brokerage firm Antique Broking has downgraded the stock to Hold from Buy.
■ 10.50am: Bajaj Finance Ltd fell 1.2% to Rs 1866.90. The company reported a 37% jump in net profit at Rs557 crore for the quarter to September, as overall advances grew at a healthy pace. Gross NPA and net NPA stood at 1.68% and 0.51%, respectively, while the provisioning coverage ratio stood at 70%.
■ 9.30am: BSE Sensex opened lower by 30.04 points, or 0.09%, to 32,603.60, while the Nifty 50 inched down 5.10 points, or 0.05%, to 10,225.75.
■ 9.23am: Wipro Ltd rose 0.09% to Rs290.30 ahead of its September quarter earnings. According to 26 Bloomberg analyst estimates, the company may post net profit of Rs2,072.50 crore while revenues will be at Rs13,841.90 crore.
■ 9.20am: Axis Bank Ltd gained 1% to Rs525.15 ahead of its September quarter earnings. According to 20 Bloomberg analyst estimates, the bank may post net profit of Rs1,317.50 crore.
9.17am: Bajaj Auto Ltd added 0.7% to Rs 3,243.70 ahead of its September quarter earnings. According to 3 Bloomberg analyst estimates, the company may post net profit of Rs 1,012.50 crore while revenues will be at Rs 6289 crore.
■ 9.15am: The rupee opened at 64.80 a dollar. At 9.15am, the home currency was trading at 64.85 against the dollar, down 0.19% from its Wednesday's close of 64.72.
■ 9.13am: The 10-year bond yield was at 6.744% compared to its previous close of 6.734%. Bond yields and prices move in opposite directions
■ 9.10am: Asian currencies were trading lower as dollar gained after Bloomberg reported that economist John Taylor was said to make a favourable impression on President Trump during an interview for the position of Federal Reserve chairman, while the prospects of former Fed Governor Kevin Warsh faded.
South Korean won was down 0.34%, China Offshore spot 0.21%, Singapore dollar 0.20%, China renminbi 0.18%, Philippines peso 0.17%, Indonesian rupiah 0.13%, Taiwan dollar 0.13%, Malaysian ringgit 0.13%, Taiwan dollar 0.13%, Thai Baht 0.07%. However, Japanese yen was up 0.11%. The dollar index, which measures the US currency's strength against major currencies, was trading at 93.337, up 0.03% from its previous close of 93.312.
Source:livemint.com
Categories: Stock Market
Sorry, comments are closed for this item.