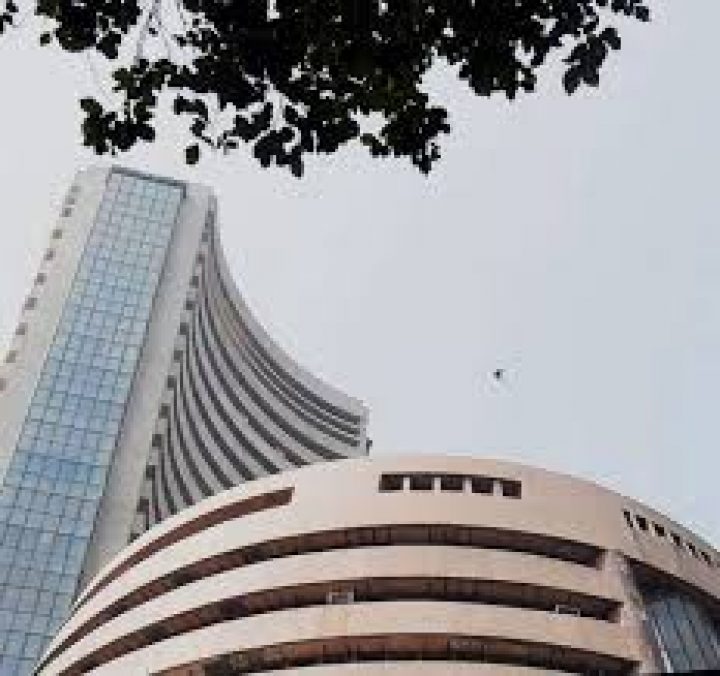 Mumbai: The benchmark Sensex index fell in afternoon trade after it rose to cross the 32,000 mark in early trade on Wednesday. The NSE Nifty also fell below 10,000 in afternoon trade.
On a broader front, the September quarter earnings season is expected to be subdued due to the impact of the goods and services tax, said Siddharth Sedani, vice-president and head equity advisory, Anand Rathi, adding he expected a turnaround only in the December quarter. Market heavyweights Tata Consultancy Services and Reliance Industries Ltd are slated to post results later this week. Here are the latest updates from the market:
■ 3.33pm: BSE Sensex closed lower by 90.42 points, or 0.28%, to 31,833.99, while the Nifty 50 fell 32.15 points, or 0.32%, to 9,984.80.
■ 3.15pm: Among sectoral indices, the BSE Realty was down 1.99% followed by metal 1.49%, industrials 1.01%, bank index 0.95%. However, the telecom index gained most and rose 2.59%.
■ 3.13pm: Bank stocks fell. SBI was down 1.85%, Kotak Bank fell 1.10%, HDFC Bank down 0.64%, ICICI Bank dropped 0.65%. The BSE Banked fell was down 0.95%.
■ 2.25pm: BSE Sensex sank 152.95 points, or 0.48%, to 31,771.46, while the Nifty 50 inched down 56.35 point, or 0.56%, to 9,960.60.
■ 2.20pm: Bharti Airtel said it has partnered with Karbonn Mobile to offer affordable 4G smartphones. Shares of Bharti Airtel were trading up 3.63% to Rs398. The stock is the top gainer on BSE.
■ 2.15pm: Kirloskar Pneumatic Co. Ltd shares fell 2.89% to Rs925 after it reported a loss of Rs1.59 crore in the second quarter versus profit of Rs6.35 a year ago. Quarterly revenue from operations stood at Rs87.19 crore versus Rs123 crore year ago. The company also said its board has approved forming a joint venture with AECOM India Pvt. Ltd for carrying out air control system business in India.
■ 1.50pm: BSE Sensex rose 24.28 points, or 0.08%, to 31,948.69, while the Nifty 50 inched down 0.75 point, or 0.01%, to 10,016.20.
■ 12.44pm: BSE Sensex rose 125.07 points, or 0.39%, to 32,049.48, while the Nifty 50 gained 41.95 points, or 0.42%, to 10,058.90.
■ 12.35pm: General Insurance Corp. of India's Rs11,372 crore IPO was subscribed 71% on the first day of shares sale. As of 12pm, the IPO received bids for 88,607,824 shares against the total issue size of 124,700,000 shares, according to data available with NSE. The offer closes on 13 October.
■ 12.30pm: Indian Energy Exchange Ltd's initial public offering (IPO) was subscribed 57% on the last day of the share sale. As of 12pm, the IPO received bids for 2,981,691 shares against the total issue size of 5,275,889 shares, according to data available with NSE.
■ 11.40am: BSE Sensex was trading higher by 117.30 points, or 0.37%, to 32,041.71, while the Nifty 50 gained 35.85 points, or 0.36%, to 10,052.80.
■ 11.20am: Lupin Ltd said its US unit Lupin Inc. has acquired Symbiomix Therapeutics Ltd, a private company focused on therapies for gynecological infections, for $150 million. Lupin shares were down 0.44% at Rs1,055.95 on BSE.
■ 10.46am: BSE Sensex rose 159.49 points, or 0.50%, to 32,083.90, while the Nifty 50 gained 47.30 points, or 0.47%, to 10,064.25.
■ 10.43am: GM Breweries Ltd surged 20% to Rs 672.70 after the company reported 41.45% increase in its net profit for September quarter to Rs 15.73 crore from Rs 11.12 crore a year ago
■ 10.40am: Sical Logistics Ltd added 6.7% to Rs 216 after the company approved buying MMTC's 26% stake in arm Sical Iron Ore.
■ 10.35am: PSP Projects Ltd gained 7% to Rs 442.60 after the company said it won order worth Rs 1575 crore from Surat Diamond Bourse.
■ 10.04am: BSE Sensex rose 170 points, or 0.53%, to 32,094.40, while the Nifty 50 gained 47.60 points, or 0.48%, to 10,064.55.
■ 10.00am: Bharti Airtel Ltd rose 4% to Rs400 while Bharti Infratel Ltd rose 3% to Rs412.05. A consortium led by US buyout fund KKR and comprising Canada Pension Plan Investment Board, Abu Dhabi Investment Authority and GIC Singapore is in discussions to acquire Indus Towers, the world's largest wireless infrastructure company , and telecom tower company Bharti Infratel for $11billion, multiple people in the know told Economic Times.
■ 9.50am: Uttam Galva Steels Ltd rose 7% to Rs27.45. Debt-laden steel company Uttam Galva Steel has four suitors including Edelweiss ARC and AION Capital, its managing director Ankit Miglani told Economic Times. While the promoter group has also submitted its own restructuring proposal, Miglani said banks were still vetting the proposals on how to bolster the financials of the company carrying debt of about Rs 8,000 crore.
■ 9.45am: Adani Transmissions Ltd hits 10% upper circuit for the second sessions. The stock was trading at Rs207 on BSE, up 10% from previous close. The company on Tuesday said in a notice to BSE that Reliance Infrastructure Ltd has entered into exclusive negotiations with Adani Transmission Ltd for the potential sale of Reliance Infra's power generation, transmission and distribution business for Mumbai
■ 9.23am: BSE Sensex opened higher by 108.14 points, or 0.34%, to 32,032.55, while the Nifty 50 rose 23 points, or 0.23%, to 10,039.95
■ 9.20am: Axis Bank rose 1.5% to Rs521.65 after brokerage firm CLSA upgraded stock to Buy from 'Outperform' and hiked price target to Rs620 from Rs600.
■ 9.17am: Dena Bank gained 3% to Rs31.50 after the bank said that it had launched a qualified institutional placement (QIP) of shares to raise as much as Rs1,800 crore from institutional investors.
■ 9.15am: The rupee opened at 65.24 a dollar. At 9.15am, the home currency was trading at 65.23 against the dollar, up 0.10% from its Tuesday's close of 65.29.
■ 9.13am: The 10-year bond yield was at 6.734%, compared to its previous close of 6.741%. Bond yields and prices move in opposite directions.
■ 9.10am: Asian currencies were trading mixed. China Offshore spot was down 0.15%, South Korean won 0.12%, China Renminbi 0.08%, Singapore dollar 0.08%. However, Taiwan dollar was up 0.23%, Thai Baht 0.11%, Malaysian ringgit 0.07%. The dollar index, which measures the US currency's strength against major currencies, was trading at 93.315, up 0.03% from its previous close of 93.29.
Source:livemint.com
Categories: Stock Market
Sorry, comments are closed for this item.