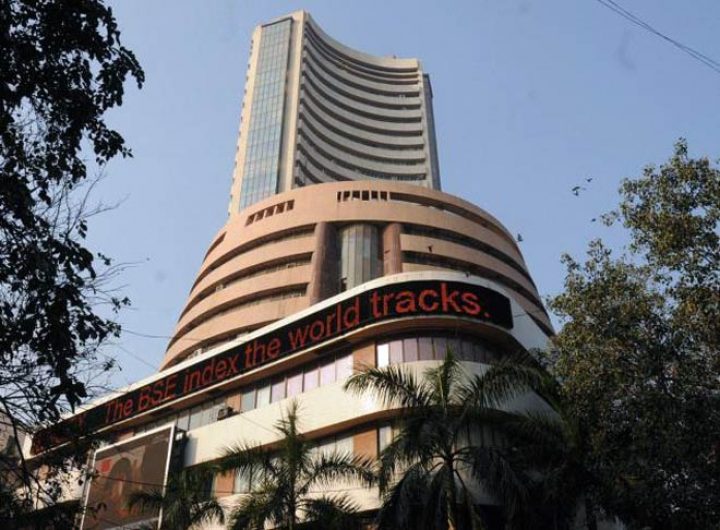 Mumbai: Indian shares rose on Monday as telecom stocks gained after Reliance Industries Ltd's unit Jio raised data tariffs last week, signalling more pricing discipline in the sector, while strong global markets also boosted sentiment. Japanese shares jumped on a weaker yen as an election win for Shinzo Abe's ruling bloc gave a green light for more policy stimulus.
Indian markets hit fresh highs last week and analysts think upcoming corporate earnings will have an impact on the short-term trend. Infosys and Hindustan Unilever will report results on Tuesday and Wednesday, respectively. "Overall global sentiment is good and the Japanese yen has weakened," said Anita Gandhi, whole-time director at Arihant Capital Markets. "Things this week will also depend on the results."
Here are the latest updates and development from the markets:
■ 3.33pm: BSE Sensex closed higher by 116.76 points, or 0.36%, to 32,506.72, while the Nifty 50 gained 38.30 points, or 0.38%, to close at 10,184.85.
■ 3.16pm: Bharti Airtel, RIL, ICICI Bank and Wipro were top gainers with gains to the tune of 4.75%, 3.17%, 1.84% and 1.64%, respectively. Shares of Cipla and Axis Bank fell 2.21% and 2.14%, respectively.
■ 3.14pm: The BSE Telecom index gained most and was up 2.76% followed by the Energy index, which rose 1.89%, Teck 1.24% and Utilities 1.17%. Meanwhile, healthcare and telecom fell 0.57% and 0.60%, respectively.
■ 2.42pm: Hindustan Zinc Ltd's net profit rose to Rs2,545 in the September quarter, compared to Rs1,902 a year ago. The company's revenue from operations was Rs5,309 versus Rs3500 last year. The company also declared an interim dividend of Rs2 per share. Hindustan Zinc shares were trading up 0.33% to Rs323.25 on the BSE.
■ 2.18pm: BSE Sensex rose 67.82 points, or 0.21%, to 32,457.78, while the Nifty 50 gained 17.10 points, or 0.17%, to 10,163.65.
■ 2.15pm: European shares opened on a positive note on Monday. The European STOXX 600 rose 0.03%, Germany's DAX was up 0.04%, UK's FTSE jumped 0.08% and France's CAC 40 surged 0.17%
■ 2.10pm: Bharti Airtel gained as much as 5.82% to Rs501.45 per share a level seen 2 January, 2008, which is more than 9 year high. Idea Cellular gained as much as 9% to Rs 99.3 per share and Reliance Communications Ltd gained as much as 9.12%.
■ 2.13pm: Shares of Bharat Heavy Electricals Ltd (Bhel) rose as much as 4.7% to Rs88.85 after the company said it has commenced execution of Rs20,400 crore Yadadri supercritical thermal power project ordered by Telangana State Power Generation Corp.
■ 2.10pm: Goa Carbon was locked in 5% lower circuit at Rs767 on profit booking after gaining 27.6% in the preceding five trading sessions.
■ 1.05pm: BSE Sensex fell 31.76 points, or 0.10%, to 32,358.20, while the Nifty 50 was down 9.25 points, or 0.09%, to 10,137.30.
■ 1.03pm: Axis Bank lost 2.47% to Rs 449 on BSE, with the stock extending post-result slide after the private sector bank reported rise in bad loans on sequential and annual basis in Q2 September 2017.
■ 1.00pm: Stocks of five telecom operators were up by 2.01% to 7.90% on BSE after Reliance Jio Infocomm increased its tariff plans last week. Reliance Communications gained 7.90%, Idea Cellular gained 7.30%, Tata Teleservices (Maharashtra) gained 4.86%, Bharti Airtel gained 3.17%) and MTNL gained 2.01%).
■ 12.55pm: Gujarat State Petronet rose 3.22% to Rs 210 on BSE, extending last session's rise triggered by the the company executing pact for FSRU project-based LNG port in Gujarat.
■ 12.13pm: BSE Sensex trades lower by 66.34 points, or 0.20%, to 32,323.62, while the Nifty 50 fell 15.50 points, or 0.15%, to 10,113.05.
■ 12.05pm: Havells India, Hindustan Zinc, Zuari Agro Chemical are among the companies that will be announcing their September quarter earnings today.
■ 12.00pm: New India Assurance (NIA), the largest general insurance company in the country, is set to hit the capital markets with around Rs10,000 crore initial public offering (IPO) in the first week of November
■ 11.13am: BSE Sensex trades higher by 68.20 points, or 0.21%, to 32,458.16, while the Nifty 50 gained 26.95 points, or 0.27%, to 10,173.50.
■ 11.10am: Shares of Indian Energy Exchange Ltd's (IEX) debuted 9.09% lower on the bourses on Monday, even after the country's largest energy exchange saw its Rs1,000-crore initial public offer (IPO) subscribe 2.28 times earlier this month. IEX shares opened 9.09% lower on the BSE at Rs1,500 a piece, compared to the issue price of Rs1,650.
■ 11.05am: Mahindra Logistics, Mahindra Group's logistics arm, on Wednesday said it will launch its Rs700 crore initial public offering (IPO) on 31 October. The public offering will close on 2 November.
■ 10.35am: BSE Sensex gained 45.65 points, or 0.14%, to 32,417.61, while the Nifty 50 gained 26.30 points, or 0.26%, to 10,172.85.
■ 10.30am: Tata Teleservices Maharashtra gained as much as 4.86% to Rs6.47 per share after the company's board, in its meeting on 18 October, approved raising of additional funds upto an aggregate amount of Rs20,000 crores by issue of one or more types of the following securities/instruments/modes.
■ 10.25am: UltraTech Cement Ltd added as much as 2.33% to Rs4117.85 per share after CLSA raises target price to Rs4,900 from Rs4,700, Goldman Sachs Rs4,570 from Rs 4,490 and JPMorgan Rs4,500 from Rs4,400 for the cement maker post its quarterly results.
■ 10.00am: BSE Sensex rose 27.63 points, or 0.09%, to 32,417.59, while the Nifty 50 gained 17.40 points, or 0.17%, to 10,163.95.
■ 9.57am: Shares of Bhushan Steel gained as much as 14.43% to Rs 66.60 per share after ArcelorMittal, the world's largest steel company, has joined the bidding race for stressed steel assets in the country by expressing interest to acquire Bhushan Steel and has submitted an expression of interest (EoI) for Bhushan Steel, which has been referred to National Company Law Tribunal (NCLT) under Insolvency and Bankruptcy Code.
■ 9.55am: Idea Cellular gained as much as 4.94% its highest in last three months after the Telecom Commission has offered a welcome relief to debt-laden telecom firms by giving them six more years to pay for spectrum purchases and lowered their interest burden.
■ 9.53am: Gayatri Projects gained as much as 3.32% to Rs 194.60 per share after NCLT, Hyderabad Bench at its hearing held on October 10 has passed an order for admission under the provisions of Insolvency and Bankruptcy code. Bharti Airtel gained as much as 2.63% to Rs 486.30 per share for second day in a row.
■ 9.50am: Bharti Airtel leads by rising 1.93% to Rs483. The stock rose as much as 2.6% to hit 52-week high at Rs486.30.
■ 9.30am: BSE Sensex opened higher by 163.89 points, or 0.51%, to 32,553.85, while the Nifty 50 rose 57.90 points, or 0.57%, to 10,204.45.
■ 9.15am: The rupee was trading at 65.10 a dollar, down 0.09% from its Wednesday's close of 65.04. The rupee opened at 65.08 a dollar and touched a high and a low of 65.08 and 65.12, respectively.
■ 9.13am: The 10-year bond yield was trading at 6.79% compared to its previous close of 6.76%. Bond yields and prices move in opposite directions.
■ 9.10am: Asian currencies were trading lower. Japanese yen 0.220%, Malaysian Ringgit 0.213%, China renminbi 0.178%, China offshore 0.163%, Indonesian rupiah 0.118%, Taiwan dollar 0.069%, Singapore dollar 0.059%, South Korean won 0.041%, Philippines peso 0.029% and Thai Baht 0.003%. However, Hong Kong dollar gained 0.029% . The dollar index, which measures the US currency's strength against major currencies, was trading at 93.762, up 0.07% from its previous close of 93.701.
Source:livemint.com
Categories: Stock Market
Sorry, comments are closed for this item.